Rousseff forced to cancel speech to the nation; defense with state resources argued the opposition
Saturday, April 16th 2016 - 09:38 UTC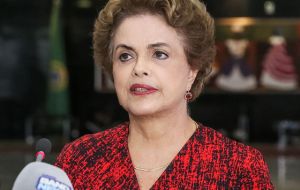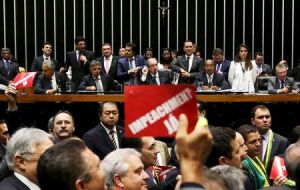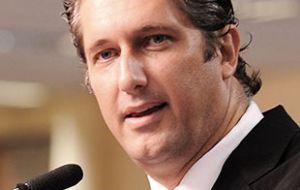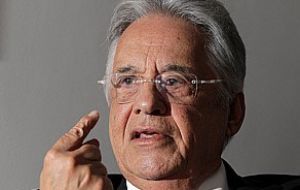 Embattled Brazilian President Dilma Rousseff canceled a scheduled address to the nation on Friday night, ahead of a looming impeachment vote in the lower house of Congress. The lower house will vote Sunday on whether Rousseff should be impeached by the Senate for allegedly breaking financial laws.
Rousseff is widely expected to lose the vote and had planned on using the speech to defend herself against the allegations. But opposition parties sought a Supreme Court injunction to block her speech, arguing that Rousseff was using state resources to defend herself.
The cancelation comes shortly after the lower house of Congress opened a raucous three-day debate on whether to impeach Rousseff on charges she broke budget laws. Pro-government demonstrators marched in several states on Friday as the debate began, with major trade unions and peasant movements planning bigger, nationwide protests on Sunday.
Rousseff is facing charges she manipulated budget accounts in 2014 in order to secure her re-election, charges she has strongly denied. Brazil's Supreme Court rejected a last ditch appeal on Thursday to halt the impeachment process, threatening to destabilize Latin America's largest economy even further.
Security in the capital of Brasilia has been stepped up in order to avoid clashes between rival demonstrators expected to turn out by the tens of thousands over the weekend. Roughly two-thirds of Brazilians support impeachment, according to opinion polls.
"I am very worried that there will be violence, depending on the result of the vote and the number of people who gather in Brasilia," Congressman Rogerio Rosso, who chaired the lower house committee that backed Rousseff's impeachment was quoted on national television.
Former president Fernando Henrique Cardoso described the current situation as a volcano. "Brazil is a volcano which can erupt any moment"
The atmosphere in the lower Chamber of Deputies Friday was highly charged, as Rousseff's critics chanted "Dilma out!" and held placards reading "Impeachment Now!"
Meanwhile, Rousseff supporter Attorney General Jose Eduardo Cardozo addressed Congress in her defense, calling the impeachment process a "violent act with no parallel against democracy."
"History will never forgive those who broke with democracy," Cardozo said, as ruling lawmakers shouted: "There won't be a coup."
If the lower house votes to impeach Rousseff, the Senate must then vote on whether to put her on trial for disobeying budget laws. If the Senate approves trial, Rousseff would automatically be suspended and replaced by Vice President Michel Temer.