Argentina returns to money market for US$ 15bn to pay bondholders
Monday, April 18th 2016 - 08:49 UTC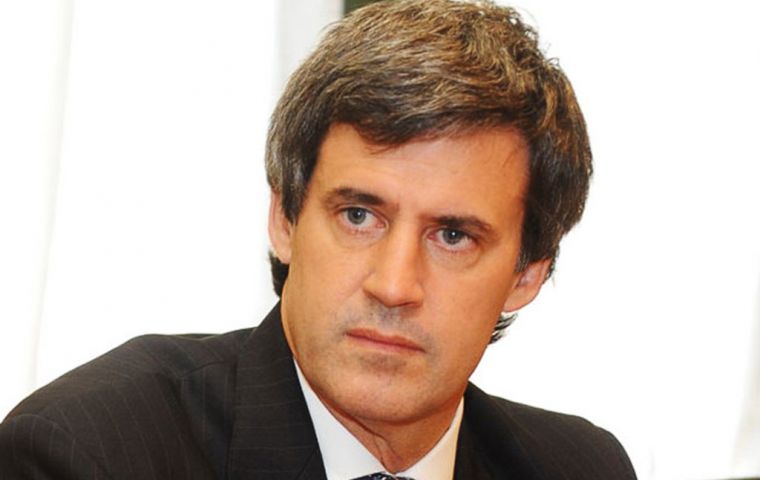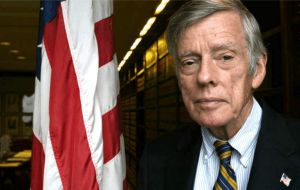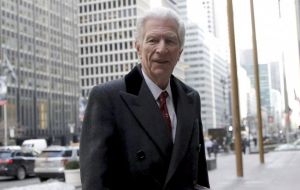 Once Argentina pays the holdout funds, US District Judge Thomas Griesa will lift the injunctions against the country, court-appointed mediator Daniel Pollack said, following the appeals court ruling that cleared the way for Argentina to pay its debts.
"That certification could come as early as Thursday or Friday of next week, depending on when Argentina does its capital-raise needed to make the agreed payments," Pollack said in a press release. "Argentina will be freed of the Injunctions that have kept it isolated from the global financial markets for years."
The Second US Circuit Court of Appeals in New York confirmed this week Griesa's decision saying that a injunction freezing payments should be lifted once Argentina pays the funds.
The special master said the impact of the ruling was "immediate and positive" as several of the remaining holdouts that haven't settled approached Argentina and have either signed deals or are in active negotiation to do so — including one group of individual bondholders who hold approximately US$300 million face amount of defaulted bonds, with claims of US$800 million.
"Prior to the ruling, it did not seem likely that agreement could be reached with these individuals. But as a result of the swift and decisive action by the Court of Appeals, it is a reality about to happen. I anticipate that the Summary Order will galvanize yet further settlements," Pollack said. "It is particularly gratifying to me to see that settlements continue to be made."
The appeals court made public the reasons of its ruling and said despite creditors won't be forced to accept Argentina's offer, as they are "free to continue to negotiate without an injunction and may take steps, perhaps including litigation, to protect their interests."
"Lifting the injunctions doesn't deprive the district court of the authority to put in place new and efficacious injunctions," the court warned.
The ruling hinged on whether the country could show it made a good-faith effort to negotiate settlements with so-called holdouts who spurned previous offers in 2005 and 2010. Argentina's legal team pointed to an estimated US$8.8 billion in pacts it reached in recent months with heavyweights like Paul Singer's Elliott Management and Kenneth Dart's EM Ltd.
Argentina is seeking to make agreements final with all bondholders soon, according to a Finance Ministry official. The ministry didn't immediately reply to a request for comment on whether small bondholders were treated differently than larger ones.
For Argentina, the ruling to lift an injunction ends more than a decade of litigation over repayment of debt that kept the country out of international credit markets. Buenos Aires aims to return to markets with a US$15 billion sale of debt on April 19, according to Finance Minister Alfonso Prat-Gay.
President Mauricio Macri made settling with holdouts a key campaign promise in the run-up to the elections. Argentina has since reached agreements with roughly 90% of investors, according to Bank of America.
"We want to pay everyone; we've said it more than once," Prat-Gay told reporters on Tuesday in New York. But "we won't pay anything outside the framework of the two proposals we made."