"Punta Arenas best cruise season in six years", with 77.248 visitors and 121 calls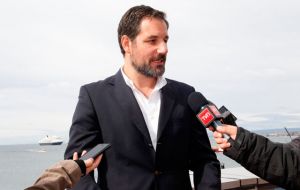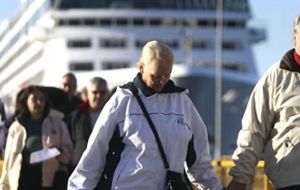 Punta Arenas port authorities, in the extreme south of Chile, reported that during this 2015/16 cruise season there was a 35% increase in the number of cruise visitors, 77.248 passengers, and 121 vessel calls, one of the most encouraging in the last decade.
"This was the best cruise season in six years, quite close to the 90.000 visitors of 2007/08" said Ignacio Covacevich, head of EPA, the Austral Port Authority, during a report on the current season which extended from September to April.
The number of passengers was 77.248, of which, 70.197 foreigners and 7.051 Chileans; and vessel-calls, 60 foreign flagged and 61 Chilean flagged. Five calls were cancelled because of climate conditions. Norwegian Cruise which again is calling in Punta Arenas, landed 18.500 passengers.
EPA stats indicate that 56% of visitors were from the US, followed by Europeans and Latin Americans, 17% each; Australia, 5%; Asia 4% and Africa, 1%.
A quick survey by EPA showed that 35% of cruise visitors went to the local shopping centers; 26%, museums; 25% city or walking tours; 13% rookeries and 1% the Torres del Paine park. As to expenses, 50% went for souvenirs; 36%, local food and beverage; 9% in local transport while 5%, museums and other leisure sites.
Regarding the cruise trip chosen, 55% said it was interest in the itinerary and places to visit; 22% holidays and learning about South America; 20% wanted to visit Chile and 3% enjoy services and facilities on board cruise vessels.
Total expenditure per visitor was estimated at US$ 62.5 which means the season injected almost US$ 5.5 million to the local economy. Likewise satisfaction with the Punta Arenas visit in a scale from 1 to 10, averaged 7.9 points.
As to the coming season 2016/17, Covacevich announced that Punta Arenas will be operating base for Hurtigruten and its Ms Midnatsol with 500 pax capacity, which plans nine visits to Antarctica.
However the number of Chilean cruise passengers is expected to drop since Australis Cruises will be operating with an only vessel, Stella Australis, that plans 27 calls and an estimated 3.800 passengers.
Of more local interest the EPA chief anticipated that the local Prat pier is being extended so that beginning the next season it can dock 250 meters long cruise vessels.
Finally Covacevich mentioned that EPA attended the Latin American Ports congress in Arica, which took place between 30 November and 3 December last year and convened over 400 top staff from the industry. Likewise the Seatrade Cruise Global fair in Fort Lauderdale on March 14/17, an event which attracted over 100.000 visitors and 800 companies from 92 different countries, and is considered the main world event of the industry.