Floods in Uruguay have 10.000 people displaced and losses are estimated in a billion dollars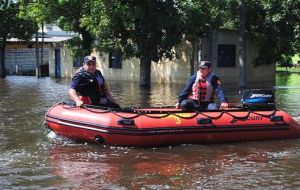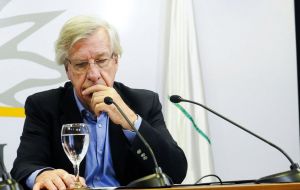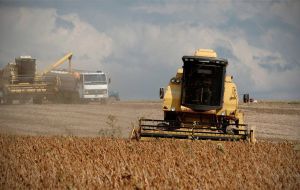 Uruguay's emergency committee reported on Thursday another death and over 10.000 people displaced because of widespread floods that followed a tornado and several days pouring rain. The ninth victim is a farmhand who fell off his horse while trying to cross an overflowed canal. A few hours before the body of a missing farmer was found kilometers down a river that sucked him while he was trying to save cattle.
The latest report also indicates that 10.097 people have been forced to abandon their homes: 2.656 had to be evacuated while 7.699 did it with their own means, because of the extensive flooding in several of Uruguay's districts mainly in agriculture areas.
However the release points out that the number is not definitive because rescue teams are still working and helping people in flooded areas. Likewise security had to be reinforced because of some looting cases which made home owners take refuge in roofs to keep watch of their assets.
Uruguay's Meteorological Institute downgraded the orange alert to yellow in some areas of the country, mostly lowlands, but assures that no extraordinary phenomena as last week's tornado is forecasted.
The Highways patrol also reported that there are 36 highways and roads which remain blocked because of over flown rivers and streams.
Rainfall and flooding have impeded harvesting of summer crops, mainly soy, rice and corn, which will have a huge impact o Uruguay's finances. Most of the one million hectares of soy are waiting to be collected and similarly with 85% of the rice crop. Both together with beef are among the short list of the country's main exports.
Economy minister Danilo Astori estimated losses could reach a billion dollars, although the different ministries are surveying and collecting data to have a reliable assessment for Saturday when a special cabinet meeting with be held to address how to help residents who lost their homes, and farmers who won't be harvesting near what they expected.
International multilateral organizations such as the World Bank and regional such as the Inter American development bank have anticipated help to deal with the situation.
Climate adversity comes at a very difficult financial moment since Uruguay as a commodities exporter is suffering the plunge in international prices and volumes traded and even before the downturn the budget deficit was close to 4% of GDP.
"This complicates finances because it means moving funds which originally had other commitments, and at the same time will increase current fiscal restrictions. But that is what we have and we can't complain, we must act and with great sensitivity to help all those that are suffering one way or another", underlined Astori.