Qatar World Cup: FIFA's announcement on "Decent Working Conditions"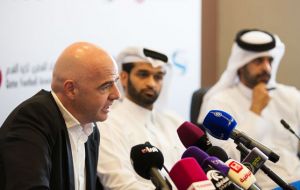 The announcement by President Gianni Infantino of FIFA that it will establish an oversight body to monitor working conditions on World Cup stadium sites in Qatar shows that FIFA is beginning to take responsibility for those whose work is essential to the holding of the 2022 event.
The announcement on FIFA's website says "…The hosting of the FIFA World Cup is an opportunity to set a benchmark in terms of sustainable and fair conditions for all workers in Qatar. In connection with the 2022 event, this body will validate the quality and effectiveness of the due diligence processes in place, will analyze the regular findings of the independent auditing system, the remediation measures taken by the Supreme Committee to address any issues and report about findings, recommendations and progress, with the aim of increasing transparency around this important topic…"
Sharan Burrow, ITUC General Secretary, said "This could be an important step forward to ending the abuse of Qatar's migrant workforce as the pace of construction accelerates to meet the 2022 deadline. The April 14 report by Human Rights expert Professor John Ruggie set out FIFA's responsibilities, and the composition, objectives and activities of this oversight body need to fully reflect Professor Ruggie's recommendations.
"In particular, it needs to recognize that many more workers are engaged in delivering the World Cup than those working only inside the stadium gates, and that until the government reforms its medieval labour laws, the companies and bodies responsible for delivering the World Cup can and must do what is needed to respect workers' rights throughout their operations."