Rousseff avoids the word 'coup' at the UN, but admits the grave moment Brazil is undergoing
Saturday, April 23rd 2016 - 11:00 UTC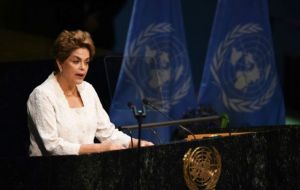 With the prospect of an impeachment trial that can have her out of office next May, Brazilian president Dilma Rousseff appealed for international support on Friday during a visit to New York, broadcasting her claims that the campaign to oust her from office was little more than a coup d'état.
Rousseff on Friday joined leaders and diplomats from 175 countries who gathered at the United Nations for a ceremony to mark the passage of the landmark agreement on climate change.
Citing the political crisis at home, Rousseff had initially said she would skip the United Nations conference, but abruptly reversed course on Tuesday after wading into a throng of cheering supporters outside the presidential palace in Brasília.
Proclaiming that her "soul had been cleansed," she said she was newly determined to lead Latin America's largest country and remain a key player in international efforts to reduce greenhouse gas emissions.
To the relief of her political opponents, Rousseff's speech to the General Assembly made only an oblique reference to her battle with Brazilian lawmakers, who are seeking to remove her from office over charges that she illegally used money from state-owned banks to hide a looming deficit and improve her re-election prospects in 2014.
"I cannot conclude my remarks without mentioning the grave moment Brazil is undergoing," she said. "Despite this, I must say that Brazil is a great nation, with a society that was able to defeat authoritarianism and build a vibrant democracy. Our people are hard-working and have great esteem for freedom. I have no doubt they will be able to prevent any setback."
Finally she also thanked all those leaders that have openly expressed support for her in fighting off impeachment.