Rousseff's bid for international support backfiring
Saturday, April 23rd 2016 - 10:51 UTC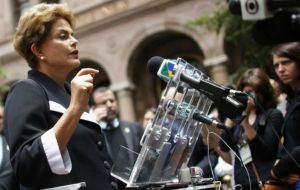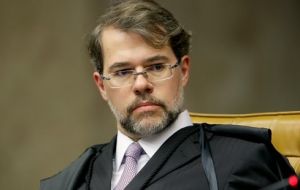 Brazilian president Dilma Rousseff from New York accused her political opponents as "coup mongers" and "conspirators" and insisted she would fight to the very end the impeachment process to remove her from office. But her attacks faced a solid defense in Brazil including from members of the Supreme Court who expressed concern the president was questioning Brazil's institutions before the world.
Speaking to the international media on Friday following her speech to the UN General Assembly in New York, Rousseff said conspirators would be judged harshly by history. "In the past, coups were carried out with machine guns, tanks and weapons," she said. "Today all you need are hands that are willing to tear up the Constitution."
However mainstream Brazilian news outlets criticized her decision to seek international support in her fight against impeachment, describing it as a move that would besmirch the nation's image.
"From her palace bunker, the president seems to feed the bizarre belief that the international press is prone to support her," Folha de S. Paulo, one of the nation's leading newspapers, wrote in an editorial. "This is a bad step, and Dilma Rousseff will only shake a little bit more, with her diplomatic negligence, the image of Brazil as a dynamic and stable democracy."
Her opponents in Congress began a parallel public relations campaign, dispatching two deputies to New York. And Vice President Michel Temer, who would temporarily replace Rousseff during an impeachment trial, gave a series of rare interviews to the foreign media to express his concern over her decision to travel to New York.
Throughout the day, the president was shadowed by the two deputies, who sought to counter her arguments that the impeachment proceedings are a threat to Brazil's young democracy.
"If this is a coup, how is it that she left the country and allowed her vice president to fulfill her duties?" José Carlos Aleluia, a federal deputy from the opposition Democrats Party, said in an interview. "The military is in the barracks, and when she returns to Brazil, she will once again be president."
In another sign of her sinking fortunes, members of the nation's highest court, which has already rejected appeals to have the impeachment petition quashed, added their voices to those criticizing her visit to New York, suggesting that future appeals to the court have little chance of succeeding.
"The responsible response would be to make a defense that respects Brazilian institutions and transmit a positive message about Brazil to the world — that it is solid democracy that works and that it's institutions are responsible," José Antonio Dias Toffoli, a Supreme Court justice, told Brazilian reporters.
His words carry weight: Justice Antonio Dias Toffoli is a former lawyer for the governing Workers Party who was appointed to the court by Rousseff's predecessor and political patron Lula da Silva.
Speaking to the reporters Rousseff said that her critics back home were overreacting, and that she had never intended to make Brazil's political crisis the focus of her United Nations speech.
"I will fight with all my strength," she said, adding "I am willing to fight to ensure that Brazil does not become a country where democratic rule is broken".
Rousseff also mentioned she would appeal to Mercosur for Brazil to be suspended if democratic process is broken. "I would appeal to the democracy clause if there were, from now on, a rupture of what I consider democratic process," she told reporters in New York.
Mercosur has a democratic clause that can be triggered when an elected government is overthrown in any of its member states, as happened in Paraguay in 2012. A breach results in suspension from meetings and can lead to the country losing its trade benefits. However Brazil is the most influential member of Mercosur, and Paraguay and Argentina have already advanced that they are not willing to intervene in the current domestic political situation in Brazil.
However what is certain is that with Brazil suffering its worst economic crisis in decades and the public furious over a corruption scandal involving the national oil company Petrobras, many Brazilians are eager to see her go.
In comments to reporters on Friday, Temer said Rousseff's UN speech was "adequate" but asked for an end to attacks on him that hurt Brazil's standing. In interviews with two U.S. newspapers published on Friday, Temer criticized Rousseff's trip and said he was ready to govern Brazil if she is unseated, though he denied he was already forming a shadow cabinet.
Temer told the Wall Street Journal that Rousseff was damaging Brazil's image at a time when it needed to attract foreign investment to pull the country out of the worst recession since the 1930s.
To the New York Times, he said: "I'm very worried about the president's intention to say Brazil is some minor republic where coups are carried out."