Brexit impact on Falklands could be ''catastrophic" for the economy and might encourage Argentina
Tuesday, April 26th 2016 - 08:28 UTC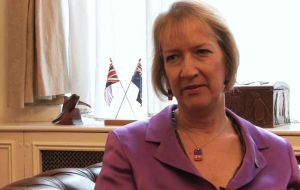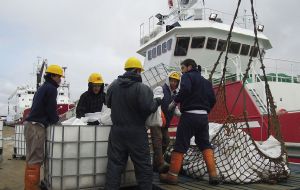 If Britain finally leaves the European Union it might encourage Argentina to be more aggressive, according to Sukey Cameron, Falkland Islands government representative in London interviewed by The Telegraph political correspondent Ben Riley-Smith.
Ms. Cameron also warned that Brexit could be "catastrophic" to Islanders because about 70% of the Falklands' economic growth is dependent on access to the EU market.
The warnings were contained in a new report from a cross-party group of MPs attempting to give "reliable, unbiased analysis" of Britain's EU membership ahead of the referendum. The report also includes statements from Ms Cameron about the possible impact of an Out vote on the Falkland Islands, over which Argentina claims sovereignty.
"The Argentine claim to the Falkland Islands, and the propaganda campaign waged by the government of Argentina, takes up a large amount of both FI [Falkland Islands] government and UK government time and effort" said Ms Cameron.
Ms. Cameron added: "The provisions of the Treaty of Rome, and its successor Treaties, provides HMG/FIG [Falkland Islands Government] with considerable certainty and support from EU Member States because of these provisions.
"Were the UK no longer a member of the EU that support would be much less certain from a large number of those EU Member States, and might encourage Argentina to be much more aggressive in its approach" added FIG representative in London, reports The Telegraph.
Section Four of the Treaty of Rome, signed in 1958, lists the Falkland Islands as a dependent territory of Britain.
The claims that the Falkland Islands are safer with Britain inside the EU than outside is likely to be challenged by Euro-sceptics, some of whom have argued the opposite.
Col Richard Kemp, who commanded UK troops in Afghanistan, said last month the creation of an EU Army was inevitable and would undermine Britain's ability to defend the Falklands.
He told The Telegraph: "There would never be consensus for an EU military operation to retake the Falklands. It could not happen. Therefore the Falklands could not be retaken or indeed defended if it was invaded again by Argentina."
Ms. Cameron also feared the economic impact of Brexit on the Falklands, saying: "We would like to state in clear terms that any material change that results in less beneficial import/export access to the European market could be potentially catastrophic for the Falkland Islands economy and people."
In the report, produced by the Commons Foreign Affairs committee, warnings about the impact of an Out vote were also raised by the government of Gibraltar.