Lula warns that if Rousseff's impeachment advances, PT will resist in the streets
Tuesday, April 26th 2016 - 09:02 UTC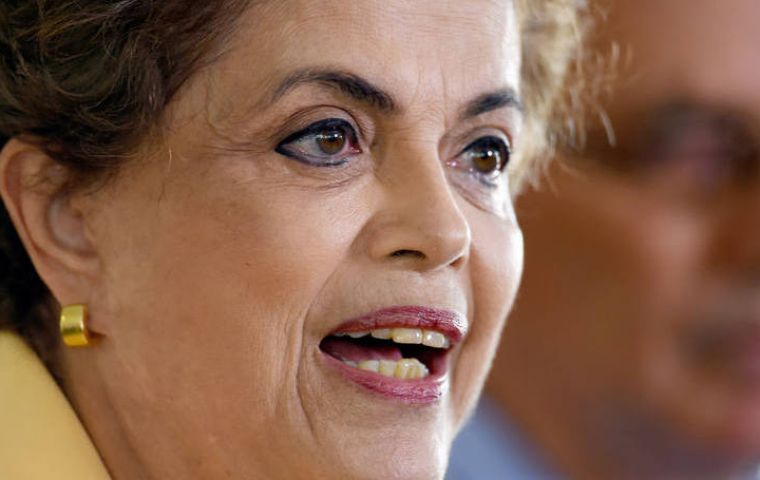 Former President Lula da Silva attacked on Monday the "gang" of lawmakers who "have implanted an agenda of chaos" in Brazil by pushing to impeach and remove incumbent head of state Dilma Rousseff. Lula participated in Sao Paulo in a seminar with representatives of leftist parties, including Italy's former Prime Minister Massimo D'Alema.

The initiative seeking Rousseff's removal "is headed by corrupt politicians who are not accommodating themselves to the result at the polls," the former president said.

Lula, the target of two corruption investigations, said that the right-wing opposition is not willing to accept losing four elections and now wants to implement its agenda via a "coup."

The center-left Workers Party, PT, has won four successive presidential elections, two with Lula and two with Rousseff, his protégé. The "coup" is supported by Brazil's wealthy elite and the mass media, Lula said.

The former president also unloaded on the speaker of the lower house of Congress, Eduardo Cunha, whom he accused of orchestrating the effort to cut short Rousseff's mandate despite being indicted himself for corruption.

Lula warned that the PT "will resist" in the streets if the impeachment proceedings against Rousseff move forward in the Senate.

"In the PT, we're going to resist, we're going to fight, because you don't play around with democracy. Many people died to achieve it," he said.

PT chairman Rui Falaco said that if the opposition manages to oust Rousseff "there will be no truce with - or respect for - a usurper government."

The lower house of Congress voted 367-137 on April 17 in favor of impeaching Rousseff on charges she massaged budget numbers to minimize the deficit. Last week, the Senate named a 21-member panel to consider the accusations against Rousseff and issue a recommendation on whether or not to put her on trial.

Once the panel delivers its report, the full Senate will vote, with only a simple majority needed to convene a trial. In that event, Rousseff will be required to step down for 180 days pending completion of the process, with Vice President Michel Temer - currently under investigation - set to step in as acting president.