Paul Singer praises Macri but warns about negative impact from Collective Action Clauses
Wednesday, April 27th 2016 - 10:44 UTC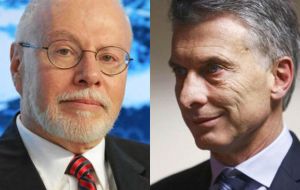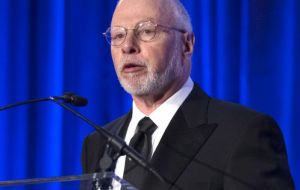 Financier Paul Singer again took to the US media to celebrate Argentine President Mauricio Macri's decision to settle with the so-called "speculative" creditors, including Singer's own Elliott Management, with an article in the Wall Street Journal heaping praise on his business-friendly approach and willingness to negotiate with the holdouts.
Singer also criticized moves by other countries to restrict minority creditors from demanding better payments than what the majority agrees to in any future cases of debt default and subsequent re-structuring negotiations.
The article came just days after the Elliott Management's CEO controversially elected to write in TIME magazine about Macri as part of the publication's Most 100 Influential People in the World list, which featured the former Buenos Aires mayor.
"As with any negotiation, there were strong differences on both sides. But the new administration recognized that this was simply a commercial dispute, and not an ideological war. That change of mind enabled talks to proceed with mutual respect and a shared commitment to solving the problem," Singer said.
He also made appeals to the "fair balance of power between sovereign debtors and their creditors," saying that "the key to achieving that balance is the rule of law," with regards to the legality of minority bondholders such as Elliot Management and their protracted battle with the Argentine government's preceding Macri's current administration.
The piece also raised doubts on moves by other states strengthening collective action clauses (CACs) which reduce the power of hedge funds such as Singer's, whose strategy is centered on suing for more than what the majority of bondholders agree to in restructuring cases.
"Certain commentators and policy makers have argued that the enforcement actions imposed by US courts on Argentina have set a negative precedent for future sovereign-debt restructurings. This line of thinking is wrong," he said, adding that it "risks crippling markets for sovereign debt," Singer said.
"In the absence of enforceability, the bonds of sovereigns with questionable credit quickly could drop to near-zero at the first sign of trouble."
CAC clauses, he argued, will mean that cash could move to countries with more credit-friendly policies.