Worlds' largest Seafood Expo opens in Brussels; Falklands attending
Wednesday, April 27th 2016 - 10:08 UTC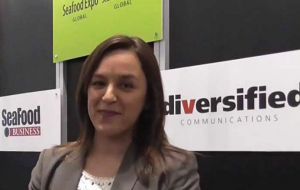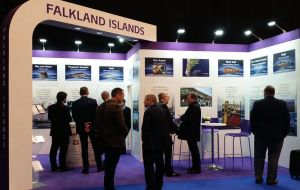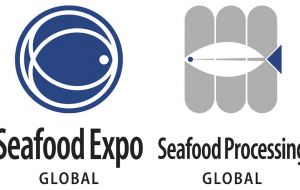 Seafood Expo Global and Seafood Processing Global opened doors on Monday to thousands of seafood professionals from all around the world seeking to grow their businesses in the global market. The exposition, which takes place at the Brussels Expo, Belgium, from 26-28 April, is the world's largest trade fair for the seafood industry.
This year's exposition features 1664 exhibiting companies from 80 countries, including 73 national and regional pavilions. New national and regional pavilions represented include Finland, Russia, Scotland and Uruguay; and new exhibiting countries from Barbados, Seychelles, Tanzania and Uganda.
The Falklands famous for its squid, fin fish and other seafood, and a regular exhibitor at the Seafood Expo is attending with the Falkland Islands Fishing companies association, and chair Mrs. Cheryl Roberts .
Thousands of buyers from more than 120 countries have registered to attend the exposition, including Brazil, Canada, China, Denmark, Germany, Hong Kong, Italy, Norway, Poland, Portugal, Russia, South Korea, Spain and United Kingdom.
"Seafood Expo Global reinforces its position as the industry world's largest marketplace and meeting place," says Liz Plizga, Diversified Group Vice-president Communications.
"It is necessary that we provide business continuity to seafood suppliers and buyers looking to reach their business goals in the global market."
For more information about Seafood Expo Global and Seafood Processing Global, visit www.seafoodexpo.com/global.
Formerly named the European Seafood Exposition and Seafood Processing Europe, Seafood Expo Global and Seafood Processing Global form the world's largest seafood trade event. Thousands of buyers and suppliers from around the world attend the annual, three-day exposition in Brussels, Belgium, to meet, network and do business.
Attending buyers represent importers, exporters, wholesalers, restaurants, supermarkets, hotels, and other retail and foodservice companies. Exhibiting suppliers offer the newest seafood products, processing and packaging equipment, and services available in the seafood market. SeafoodSource.com is the exposition's official media. The exposition is produced by Diversified Communications, an international leader in seafood-industry expositions and media.