Corruption network ever closer to Cristina Fernandez as associates are investigated
Thursday, April 28th 2016 - 07:37 UTC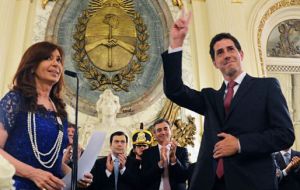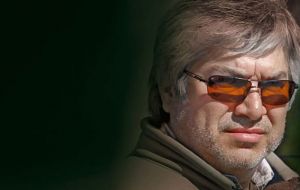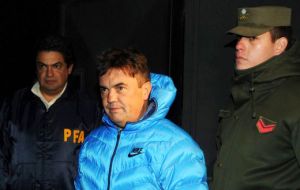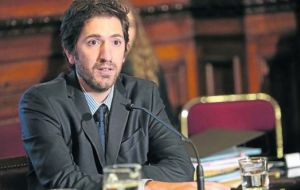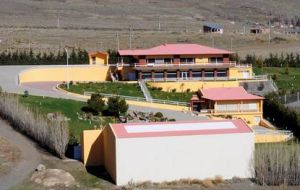 Argentina's Lower House member and former Secretary of ex president Cristina Fernandez, Eduardo "Wado" De Pedro is under prosecution investigation following claims he over billed travel expenses while overseas in 2015 as part of the presidential delegations.
Meanwhile in Kitcheners political turf, Santa Cruz province, properties, offices and farms belonging to Kirchnerite businessman Lazaro Baez and which took off on Tuesday continued on Wednesday.
It is believed that Baez, a former bank clerk who in ten years became a public works tycoon in south Argentina was a straw man for the deceased Nestor Kirchner, but this has yet to be proved.
Judicial sources in Buenos Aires revealed that Federal prosecutor Ramiro Gonzalez started a criminal inquiry against De Pedro who also happens to be a leader of La Campora, the political grouping of Maximo Kirchner, the son of former president Cristina Fernandez. The prosecution is working together with Federal Judge Sebastian Casanello who has other cases related to former close associates of the Kirchner family and administrations.
Allegedly De Pedro not only over billed but also presented adulterated expense bills and from his several trips with the president to Cuba, United States, Paraguay and Brazil. Sources indicate that lawmaker De Pedro in his trips as a member of the previous presidential entourage spent 335.000 US dollars in per diems and other expenses.
However according to the prosecution the investigation not only involves De Pedro, but also other members of the delegations and particularly the staff in charge of accepting the bills and the alleged irregularities.
Prosecutor Gonzalez said that apocryphal and adulterated travel bills "in one trip at least cost the Treasury US$ 201.903" and there is virtually no detail of how the money was spent in lodging and personal expenses, for example at New York's' Mandarin Hotel during one of the ex president's trip.
In Patagonia's Santa Cruz province, dozens of properties, offices, farms, garages owned by indicted Kirchnerite businessman Baez, and his family, were raided as part of a money-laundering investigation presided over by Federal Judge Casanello.
"Neither the judiciary nor the prosecution is wasting any time in recovering everything (the possible assets) linked to these type of crimes — which in this case is money-laundering," Casanello declared.
"The raids in Santa Cruz were very successful," prosecutor Guillermo Marijuan said. "We came to raid 40 properties and we found much more."
Casanello said Marijuan was in charge of all the investigations and that he had the support of the AFIP tax bureau and the Financial Information Unit (UIF), two agencies that have joined as plaintiffs in the investigation.
The raid began when Marijuan arrived in Santa Cruz capital, Río Gallegos aboard a Coast Guard plane, accompanied by a team of Coast and Border Guard officials with reporters tagging along.
Among the assets that could be seized were jewels, paintings, luxury cars and other property that belonged to the Kirchnerite businessman.
The federal judge said that what had sparked the raids was a written statement submitted by whistleblower Leonardo Fariña's attorney. The outspoken businessman had reportedly given directions, dates, and even exact locations of properties raided on Tuesday and Wednesday.
Border Guard officials were reportedly seen raiding a garage on Güer Aike street in Río Gallegos, where Baez stored his fleet of cars. Judicial officials began estimating the value of Baez's fleet when they arrived. The Kirchnerite businessman allegedly kept a fleet of about nine cars in the garage.
At the same time this was happening, the Border Guards raided the offices of the Austral Construcciones construction company and other offices owned by Baez.
The office of his accountant, Cesar Andre, was also raided, while the offices where almost all of the companies linked to Baez are officially registered were closed down on Tuesday by the Federal Police (PFA)'s Special Crimes Unit.
Marijuan is trying to determine the extent of Baez's wealth and how he had diversified it. Up until 2013, Baez declared that he had US$66 million worth of real estate, which included 79 properties and 14 firms.
Later in the afternoon, Marijuan led another raid on Baez's ranch named Cruz Aike, which is located 80 kilometers from the Santa Cruz city of El Calafate. Fariña alleged that Baez had stashed millions of dollar bills in vaults at the ranch.
Marijuan was accompanied by 100 officials on his raid on the Calafate ranch, which he travelled to by helicopter, but Border Guard officials were also present in different areas of Santa Cruz. Baez is believed to own 25 ranches, which represent more than 400,000 hectares.
Due to the many properties owned by Baez, Marijuan anticipated that they wouldn't finish the raids in a single day, "we will be spending quite some time in Santa Cruz, the accused has far more properties than we estimated".
In effect the media speculated based on judicial sources that Baez has some 220 properties, 37 farms and over fifteen luxury and collection cars, his passion.
From neighboring Uruguay it was reported that a Baez property on the coast next to the sea resort of Punta del Este, an estimated 150 hectares purchased at US$ 16.5 million, was seized as part of the ongoing investigation in Argentina and Uruguay.