Fed leaves rates unchanged; expectations over an increase move to June
Thursday, April 28th 2016 - 07:22 UTC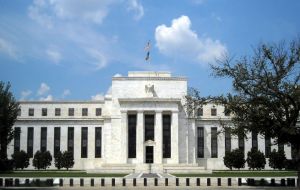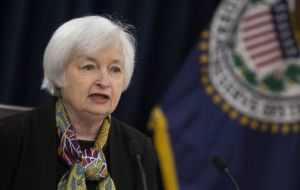 The U.S. Federal Reserve did what many expected on Wednesday as it left its key interest rate range unchanged. The central bank maintained its overnight lending rate for banks at a target range of between 0.25 and 0.50% where it has been since it was boosted from near zero back in December. Expectations now have moved to the two-day meeting on 14/15 June.
Without giving a hint of when it will next raise rates, the Fed said the overnight lending rate "rate is likely to remain, for some time, below levels that are expected to prevail in the longer run."
The Fed said labor market conditions have improved further since its interest rate decision in March, "even as growth in economic activity appears to have slowed."
The statement that accompanied Wednesday's announcement dropped the reference the Fed made back in March cautioning that global developments "pose risks." The Fed said today it would "closely monitor" global economic and financial developments.
Federal Reserve Chair Janet Yellen was among nine members of the Fed's Open Market Committee who voted to keep interest rates unchanged. One member, Kansan City president Esther George voted in favor of boosting the target range for the federal funds rate to 0.5 to 0.75%.
Wednesday's interest rate announcement came a day before the U.S. government is expected to release figures that show the economy grew at an annual rate of less than one per cent during the first three months of this year.
Fed's recent forecasts show most officials expect to raise rates twice this year, perhaps following their meetings in June and December. Several influential central bank officials have pushed back against the market's pessimism.
Chicago Fed President Charles Evans, one of the most vocal supporters of central bank stimulus, recently said he considers two rate hikes this year as "appropriate." Boston Fed President Eric Rosengren argued earlier this month that the economy's moderate pace of growth will continue.
"I do not see that the risks are so elevated, nor the outlook so pessimistic, as to justify the exceptionally shallow interest rate path currently reflected in financial futures markets," he said.
Wall Street moved modestly higher after the Fed's announcement. The blue-chip Dow Jones industrial average ended the day up 51 points, or 0.28%, after opening in the red. The broader Standard & Poor's 500-stock index also reversed its early losses to gain 3 points, or 0.2%. Even the tech-heavy Nasdaq closed off its session lows, losing 25 points, or about half a percent.