Lula's party would call for fresh elections if Dilma is removed from office
Thursday, April 28th 2016 - 07:59 UTC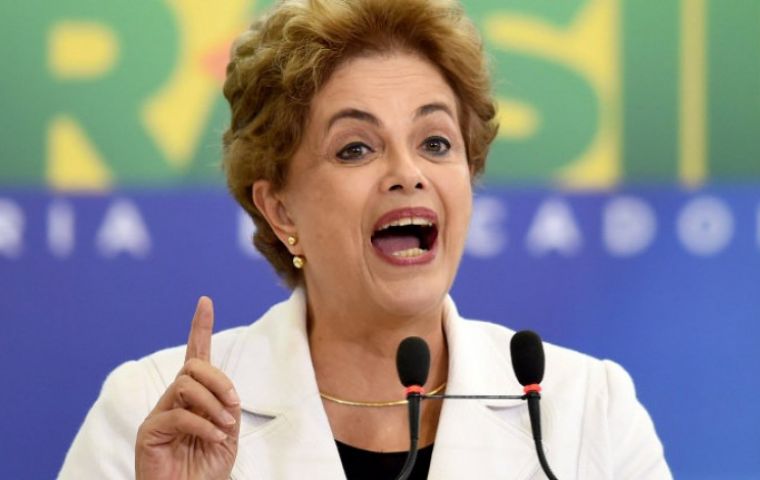 Brazilian President Dilma Rousseff concedes that even if the full Senate finally votes against her impeachment, she may be obliged to support the call for new presidential elections this year, according to Folha, one of Sao Paulo's most influential dailies.
In effect the ruling Worker's Party (PT) National Committe is putting pressure on those in government to give the initiative their backing even before the Senate verdict on the President's fate.
In private discussions, the President has admitted that a period of 180 days out of office with Brazilian Democratic Movement Party (PMDB) vice president Michel Temer as acting head of state, would create the "worst possible" conditions for her to return to governance afterwards.
The most probable step in the impeachment process is that the special committee will effectively recommend the president is removed from office, for 180 days as dictated by the Constitution. In that period of time the Senate will consider the merits for impeachment, and will need a two thirds majority to definitively remove Rousseff from office.
In the words of a presidential adviser, if Temer demonstrates even "the smallest amount of competence" in dealing with the crisis, Dilma's return to office, if no grounds are found for impeachment, will become completely impractical and devalued.
In order not to embarrass the President, the PT leadership has decided to put on hold the sponsoring of the initiative, at least until the impeachment verdict is decided.
Ex-President Lula da Silva told advisers and close associates from PT that the decision whether or not to sponsor new elections, before the first vote in the Senate, should come from Rousseff herself, not from him.
The Workers' Party leadership however, is suggesting that the party embraces the alternative right after Temer takes office, which could happen any time after the second fortnight in May.
The objective is to reinforce arguments that Temer does not enjoy the legitimacy to occupy the Planalto Palace and that it would consequently be necessary to hold new presidential elections.
Besides putting pressure on the acting president, the proposal will also be geared to weaken Temer's coalition and administration.
A week ago senators from the incumbent PT, the Brazilian Socialist Party, the Sustainability Network and the Popular Socialist Party presented a Proposed Amendment to the Constitution, asking for the right to hold presidential elections simultaneously with municipal elections.
This would mean that Presidential elections would be able to take place in October this year. The initiative has the support of 30 senators and would have to be approved in two vote rounds, both in the Senate and the lower house.
The supporters of the proposal admit that it will be extremely difficult to convince both senators and congressmen to come to an agreement regarding the motion.