OAS will lead independent investigation into Belize-Guatemala border incident
Thursday, April 28th 2016 - 06:24 UTC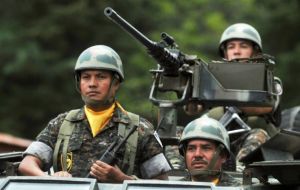 The Organization of American States (OAS) will conduct, at the request of the governments of Belize and Guatemala, an independent investigation of the April 20 border incident that led to the death of the Guatemalan minor Julio Rene Alvarado Ruano and in which his father and brother were wounded.
Following the reception of formal requests from both governments, OAS confirmed to authorities it will proceed immediately with the identification and deployment of the appropriate experts to carry out the investigation as soon as possible. At the request of both sides, the investigation will be carried out independently from the work of verification taking place at this time.
Secretary General Luis Almagro welcomed the commitment of both countries to clarify the events rapidly and expressed gratitude for their trust in the OAS for the identification and deployment of the experts who will carry out the task.
Finally, Almagro reiterated the call for both sides to redouble the confidence building measures in place to prevent future confrontations or situations that could put at risk the peace and stability between the two countries.