Brazil's central bank leaves benchmark rate at 14.25% forced by stubborn inflation
Friday, April 29th 2016 - 06:50 UTC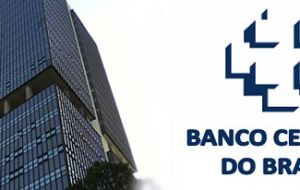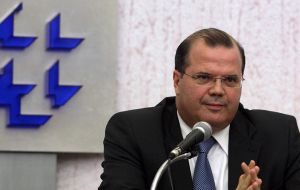 Brazil's central bank left its benchmark interest rate on hold at 14.25% for a sixth consecutive time, amid stubbornly high inflation and political uncertainty. The bank which makes rate decisions eight times a year has held its key Selic rate steady since the last of seven consecutive hikes in July 2015.
Despite the faltering economy, with a 3.8% shrink in GDP last year due to persist through 2016, according to the IMF, the market consensus had been that the interest rate would not change. With a budget deficit estimated in 11% of GDP, and inflation at 10.67% in 2015 and climbing the decision comes as no surprise.
Price rises are forecast by the central bank to ease to 6.6% this year, then 4.9% in 2017 and 4.5% in the first quarter of 2018.
The bank's Monetary Policy Committee, Copom, in its late Wednesday release said the decision was unanimous. Follows the release.
"The Committee recognizes the improvements in the policy to control inflation, especially the containment of second-order effects stemming from relative prices adjustments. However, it considers that the high inflation level in twelve months and the distance between inflation expectations and the inflation targeting regime objectives do not allow monetary policy easing.
"The following members of the Committee voted for this decision: Alexandre Antonio Tombini (Governor), Aldo Luiz Mendes, Altamir Lopes, Anthero de Moraes Meirelles, Luiz Edson Feltrim, Otávio Ribeiro Damaso, Sidnei Corrêa Marques and Tony Volpon. The April Copom Minutes will be released in Portuguese next Thursday, May 5".
Latin America's largest economy has been in recession since the second quarter of 2015. The three main credit rating agencies have lowered their Brazil rating to junk status.
The economic downturn rate has increased with a political crisis in which economic reforms announced by President Dilma Rousseff have languished amid paralysis in Congress. Rousseff is fighting impeachment on charges that she illegally manipulated government accounts, while many members of her Workers Party have been indicted in the major Petrobras corruption scandal involving billions of dollars.
Rousseff could be suspended as early as mid-May while the impeachment trial gets underway. She would be replaced by her bitter political opponent, Vice President Michel Temer.
Meanwhile the unemployment rate rose sharply from the 7.6% registered in January. The Brazilian economy shrank by 3.8% last year, its worst recession in 25 years. The government estimates it will shrink by 3.05% this year, while the markets are betting on a contraction of 3.6%, and a mild lessening of recession in 2017.