Chilean mining minister inaugurated the British Pavilion at Expomin 2016 in Santiago.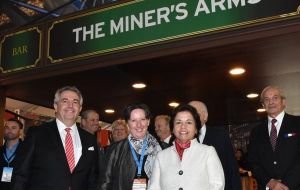 Chilean President Michelle Bachelet and Mining Minister Aurora Williams officially inaugurated Expomin 2016. During her tour through the exhibition, Minister Williams visited the British pavilion, joined by Ambassador Fiona Clouder and UKTI Director Trevor Hines.
This is the first year that the UK participates with a British Pavilion at Expomin, a pavilion which is housing 41 companies, of which 70% are new to the Chilean market
Currently, mining is one of the key priorities of the UK Trade and Investment section of the British Embassy. This presents an opportunity to offer solutions to current issues in the Chilean mining sector, focusing on distinct challenges that face the industry, such as optimizing the efficiency of operative processes and the use of water and energy resources.
With a database of approximately 200 British companies, the majority of which are dedicated to mining, ranging from equipment and accessories to satellite applications and consulting services, the British Embassy will launch its app MiningUK as part of its efforts for Expomin 2016.
Available from the 24 April for iPhone and Android, the app Mining UK allows users to access descriptions of each company, carry out searches by category and put themselves in direct contact with companies, among other functions. The app also has a map of the UK Pavilion at Expomin. Devised by the British Embassy and developed by Ediarte, the Mining UK app will make easy access to British companies possible, thus strengthening the commercial links between Chile and the UK.
One of the pillars of the United Kingdom that closely links to the need to develop capability in the mining industry is education.
For this reason, a diverse range of British universities are attending Expomin 2016, looking to form close links and generate alliances with Chilean educational institutes. The universities and educational institutions present are: Camborne School of Mines, Camnexus, Fitch Learning, The British-Chilean Institute, Devon School of English, Edinburgh University, the University of Leicester, and UCL.
It is worth pointing out that the British presence at Expomin is not be solely through its companies. In terms of entertaining the visitors to the stand, the Pavilion also offers a pub-themed meeting area, and stages shows by a Beatles tribute band, a contemporary music choir, and other attractions.
For more information about Expomin 2016, contact Scott Bennett, UK Trade & Investment Mining Officer, British Embassy, Santiago.