British Supreme Court Justice gives a lecture in Buenos Aires on the Carta Magna
Saturday, April 30th 2016 - 12:41 UTC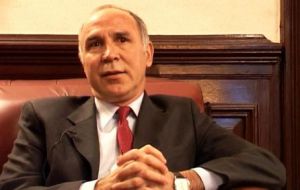 Visiting British Supreme Court Justice Lord Robert Carnwath gave a lecture for the United Kingdom Course of the University of San Andres, in Buenos Aires. Among important participants to the event were the President of Argentina's maximum tribunal, Ricardo Lorenzetti, as well as magistrates, prosecutors and renowned law experts.
Lord Carnwath gave a lecture on the 1215 Magna Carta of the United Kingdom that involved the debate over key human rights aspects.
"Today, this is extended to countries which 75 years ago destroyed each other during the war and to others which 30 years ago, lived under communist regimes, in which the Human Rights concept was an empty one," Lord Carnwath said.
The event took place at the residency of British ambassador to Argentina John Freeman. The Dean of the University of San Andres, Carlos Rosenkrantz, who has been nominated by President Mauricio Macri to the Supreme Court, took part in the conference, along with the head of the University of San Andrés Foundation, Eduardo Orteu; Director of the Law Department, Lucas Grosman and Director of the Institutional Development Office, Sebastián Dates.
The introduction to Lord Carnwath's lecture was in charge of Eduardo Zimmermann, the Director of the Social Department of the university and the United Kingdom Course coordinator.
Granting a speech, Ricardo Lorenzetti said Lord Carnwath was a "very important man," a world-renowned justice, "highly valuable from a human point of view."
"He has given lectures of all kinds in the most unthinkable places. He is a man of passion for Justice and the academic world. He makes a remarkable effort in touring the world to speak about Law. It is one of his greatest values," Lorenzetti assured.