Sea elephant sighted in the Uruguay River, some 200kms north of the River Plate
Saturday, April 30th 2016 - 11:10 UTC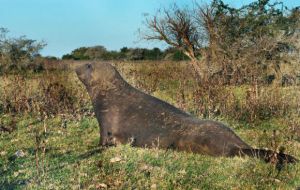 A sea elephant has been sighted in the shores of Gualeguaychu, next to the River Uruguay, deep in the Argentine heartland province of Entre Ríos, which together with the opposite coast in neighboring Uruguay has suffered uncommon high floods that have left part of several cities covered in water.
Apparently it's the same sea mammal that was sighted a few days ago, further south, in the city of Mercedes, in Uruguay, which has also seen its coastline, promenade and yacht clubs suffer the consequences of exceptional rainfall and flooding.
A team from the Argentine Environment and Sustainable Development ministry Fauna department was sent to monitor the sea elephant, which has been described as a young female that somehow has swam some 200 kilometers north from the River Plate, and probably thousands of kilometers from its natural habitat in the south Atlantic.
The Argentine team with the help from the Coast Guard and the Temaiken Foundation is planning to catch her and return her as a first option to Mar del Plata.
"The sea elephant came in from the sea into the River Plate as a consequence of the very strong southeast winds, and possibly lost its orientation. From there it swam up the River Uruguay, and was first sighted in Mercedes, on the Uruguayan coast and later in Gualeguaychú by some locals who reported the case", according to members from the Temaiken foundation.
"Once she is sighted again, we are prepared to rescue her" said Ricardo Negreira, Wild Fauna coordinator from Argentina's Environment ministry.