Venezuela moves local time 30 minutes up, back to normal
Monday, May 2nd 2016 - 05:34 UTC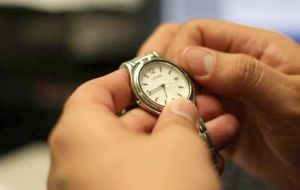 Venezuelan government on Sunday moved local time up 30 minutes, to four hours behind UTC, with an eye toward dealing with the emergency caused by the ongoing severe drought. The time change will enter into effect as of this month and brings Venezuela back to the time schedule that prevailed until 2007, when the government shifted the nation's clocks back by half an hour.
The measure is part of a government plan to attend to the electrical and water emergency caused by the drought, aggravated by this year's El Niño weather phenomenon. Authorities hope that the modification will enable Venezuelans to take better advantage of daylight and thus reduce their use of electricity.
On Sunday, however, rain has been falling in southeastern Venezuela where the El Guri dam is located, the country's largest hydroelectric power generation facility, generating 70% of that capacity, but where water levels are at critically low levels. Several months ago, authorities implemented an electricity and water rationing plan to deal with the drought's effects.
Other measures to reduce power consumption have included reducing the work week by two days in the public sector and by having schools offer classes Monday through Thursday only. Shopping centers are also operating on restricted schedules and must generate themselves a portion of the electricity they use.