Argentine whistle blower reveals the Kirchner corruption system and admits he fears for his life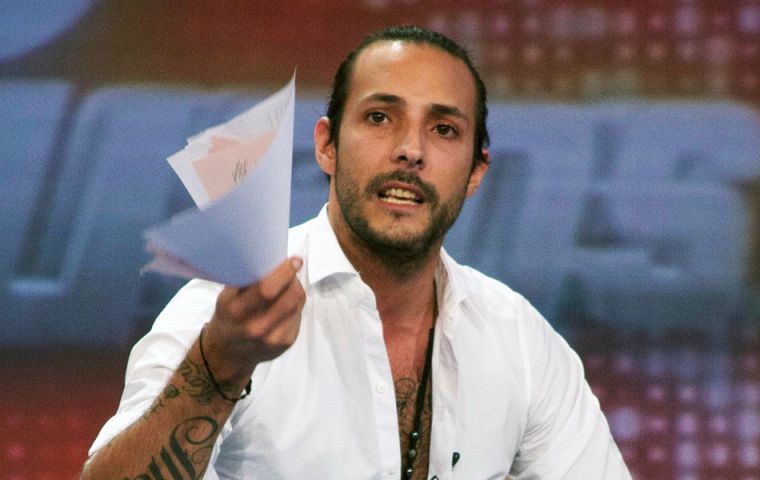 Argentine whistle blower and former financial advisor to Kirchnerite businessman Lazaro Baez, who is imprisoned accused of money laundering and overbilling public works contracts, has told his former boss "not to be stupid and tell all the truth, what really happened"
In a long television political program Leonardo Fariña who is now a protected witness, expressed fear about his life because of a non trustworthy Argentine justice system and strongly recommended Baez to tell the whole truth, "and not be as stupid as I was".
The former auditor and financial advisor said that Baez who in a few years became the main public works contractor in the province of Santa Cruz, the Kirchner political turf, "is keeping to the silence code of his bosses, believing a magic hand will come and rescue him, but, I can assure you Lazaro no magic hand will be coming, that is not going to happen. Open up say all you know. Look what happened to me".
Farina said that Baez is the great link that can expose all of the Kirchner's corruption organization to siphon money from public works contracts. "I sincerely hope he makes the right decision, to negotiate guarantees for his family and himself, and tells the truth, for the good of his wife and children".
The whistleblower said when he was first arrested and jailed there was a blackout and a fellow came up to him and confessed he had been contracted to stab his to death. Farina has been two years in jail for alleged fiscal evasion and claimed his case is very dubious. "I'm in the hands of magistrates who jailed me to cover up other situations, and I'm afraid. I'm the only Argentine who has been in jail for two years for fiscal evasion".
"I only decided to speak up with the new government but still I feel there are no guarantees from certain magistrates", confessed Fariña.
Baez is believed to be the associate of ex president Nestor Kirchner with whom they were very close friends and built an empire of properties and companies. However in 2010 when Kirchner died, Cristina Fernandez began demanding the family's share of the funds and properties', believing Baez was trying to swindle her and the whole structure of milking public works contracts started to fall.
Argentine prosecutors sent to Santa Cruz province are looking into Baez assets, believing they included some forty properties, but have found over a hundred and keep discovering new assets.