Brazilian prosecution asks for investigation of opposition leader Senator Neves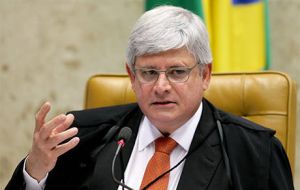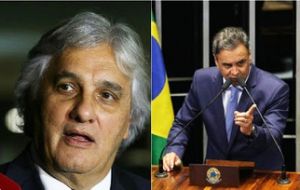 Brazil's top prosecutor asked the Supreme Court to open an investigation into opposition Senator Aécio Neves, the country's leading opposition figure, as the vast Petrobras corruption probe engulfed more politicians. Neves, who narrowly lost the 2014 presidential election to Dilma Rousseff, was previously included in a list of some 50 politicians thought to have taken bribes originating from state-run companies.
Brazil's Prosecutor-General Rodrigo Janot had stopped the investigation of Neves last year but is now asking to reopen it based on plea bargain testimony from another senator, Delcídio do Amaral of the Workers Party (PT), caught up in the sprawling corruption probe centred on Brazil's state-run oil company.
Amaral, the government's former leader in the Senate, declared in plea bargain testimony that Neves benefitted from a corruption scheme involving Furnas, a subsidiary of state-run power utility Eletrobras which operates in the senator's home state of Minas Gerais. Janot asked for a hearing within 90 days.
The scheme was similar to one that police uncovered at Petrobras, according to Amaral. Construction executives worked together to overcharge Petrobras for work and used the excess funds to bribe politicians.
Amaral is collaborating with prosecutors after he was arrested and accused of obstructing the corruption investigation, Brazil's largest-ever.
If the Supreme Court accepts the requests from the attorney general's office, the new investigations will be added to those already opened against about 50 lawmakers accused of taking bribes to facilitate the corruption at Petrobras.
A spokesman for Neves, the leader of the centrist Brazilian Social Democracy Party (PSDB), said the investigation would show his conduct was correct. Maia said in a statement he was the "victim of a lie."