ECB will stop printing €500 notes in 2018 to help combat money launderers and criminals
Thursday, May 5th 2016 - 12:27 UTC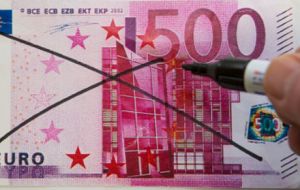 The European Central Bank has announced it will stop printing €500 notes in 2018. It says the move is to stop the notes being used by money launderers and criminals. In effect they are easily transportable. A million Euros in €500 notes weighs 2.2 kilograms and can be carried in a laptop bag.
The ECB says it is "taking into account concerns that this banknote could facilitate illicit activities."
Existing €500 notes will still be able to be used. But over time they will be withdrawn from circulation, as the notes are deposited with banks.
The move has been encouraged by nations like France, who are worried about the use of the notes by terrorists.
The banknote was nick-named the "Bin Laden" for its association with money laundering and funding terrorism.
But the move has left others worrying that this is part of a wider campaign to abolish cash. Some people fear it is an attempt by governments and central bankers to exert more control over people's lives.
They say deposit rates are at near zero levels in Europe, so that incentivizes people to stash cash under the mattress or in a safe. This fear is prevalent in countries like Germany and Austria.
As well as the €500 note there are questions over the future of the 1,000 Swiss franc, the 10,000 yen note and the US$100 bill.
Former US Treasury Secretary Lawrence Summers has called for the elimination of the US$100 bill, principally because of its use by criminal groups.
In Canada they stopped printing $1,000 bills in 2002. There are still 900,000 in circulation, compared to 2.8 million of them fourteen years ago.