Bad news for Macri: Moody's forecasts Argentine economy will shrink 1.5%
Friday, May 6th 2016 - 06:38 UTC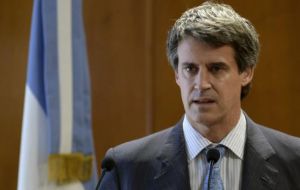 Despite the Argentine government's forecast of a much better economic scenario in the second half of the year, credit rating agency Moody's disagrees, saying the economy is set to shrink by 1.5%, followed by a growing unemployment and an inflation rate well above 30%.
The forecast is worse than the last one issued by the agency in April, which had described a much more optimistic scenario for Argentina. Back then, Moody's upgraded Argentina's issuer rating but warned over the high fiscal "inherited" by the Macri administration.
"Argentina's return to international capital markets it is one of the most significant hits by the Macri administration. Nevertheless, it's still necessary to reduce the economic unbalances of the country for the rating of the government, companies and banks to be improved," the agency said in a report.
Moody's said the country is going through a recession, which will make improving rates a difficult task on the short term. The agency forecasted a new economic drop this year, which will create further "challenges" for consumers, companies and the public sector. A better state of affairs won't arrive until 2017, Moody's Senior Credit Officer Gabriel Torres said.
"The policies implemented by the Macri administration won't have any positive impact until the start of 2017," he said.
Moody's said the settlement with the holdout funds opens a path for companies and provinces to place debt on foreign capital markets much more easily. The agency said many of them will issue debt on the short-term. Banks will be the exception as they won't need to get funding from placing debt.
"Access to foreign funding will allow provinces to have the funds to carry out infrastructure projects after years of disinvestment. They will also be capable of refinancing their current foreign debt, possibly under much more favorable terms," Moody's said. "We expect many of the largest firms in Argentina to issue bonds on the short term."
However president Mauricio Macri said last week that Argentina is on the right track and that the rate of inflation would "drastically" drop in the second half of the year. He said the "transition" would take "some months" for prices to become "stabilized."
The government said it expects to end the year with an inflation rate of between 20 and 25%, a goal that many economists see as unrealistic.
Finance Minister Alfonso Prat-Gay said the government expected economic growth of between 0.5% and 1% this year. That goal not only runs contrary to Moody's latest forecast but also to International Monetary Fund and World Bank forecasts, which said the Argentine economy would shrink one percentage point in 2016.