Councils-election: Labour doing better than expected in England; Scotland's Sturgeon wins a third term for the SNP
Friday, May 6th 2016 - 07:13 UTC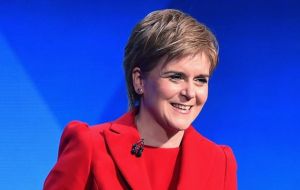 Labour leader Jeremy Corbyn has avoided the drubbing some had predicted as the party retained control of key councils in England, but the party had a bad night in the Scottish Parliament elections, where Nicola Sturgeon won an historic third term for the SNP reported BBC late Thursday.
Labour could be pushed into third place behind the Tories in Scotland, with the Lib Dems also staging a revival. UKIP gained council seats, came second in two by-elections and looks set for their first Welsh Assembly seats.
The London Mayoral result will not be declared until late Friday.
Labour MP John Mann - one of Jeremy Corbyn's internal biggest critics - conceded that the party was "doing OK" but he said it should be winning by a landslide against a feuding and weakened Conservative Party.
BBC analysis suggests the Tory vote is down in southern England, which may have helped Labour to retain control of councils in areas such as Crawley, Southampton, Norwich and Hastings, where its vote was looking vulnerable.
Labor's vote share is down about 6% on average on 2012 - the last time the seats in England were contested - but a BBC analysis suggests its share is up 4% on the general election in key wards, with the Conservatives down by a similar amount.
It is a different story in Scotland, where the party's share is down 11% and could come fourth behind the Lib Dems, according to one projection.
The party gained one seat from the SNP - Edinburgh Southern but Scottish Labour leader Kezia Dugdale was left relying on the top-up system for a seat, after failing to take Edinburgh Eastern.
SNP leader Nicola Sturgeon is expected to lead her party to a third successive term in office, telling supporters: "We have made history". But BBC analysis suggests that with more than half of seats declared, its share of the vote is simply holding steady with what it achieved in 2011.