First UK trade mission in ten years begins contacts in Argentina
Friday, May 6th 2016 - 07:27 UTC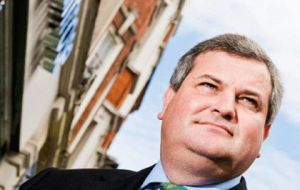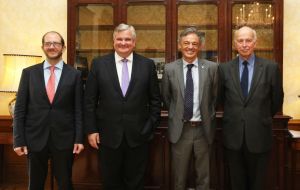 British Trade and Investment Minister, Lord Price, leads the UK's first trade mission to Argentina in ten years, which arrived in Buenos Aires on Thursday. The mission looks to strengthen trade and investment relations with the third largest economy of Latin America.
Lord Price arrived from a two day visit to Colombia and a successful trip to Mexico three weeks ago, is also expected to call for substantial progress on the EU-Mercosur free trade deal negotiations.
"Argentina and Colombia are Latin America's third and fourth largest economies respectively. If we are to improve our exports to Latin America, it's vital that we not only build stronger trade ties with traditional trading partners like Colombia, but build on renewed relationships like that with Argentina", pointed out Lord Price adding that the growing economies of Latin America offer huge opportunity for British business and "that's why I want to see real progress on an EU-Mercosur free trade agreement".
Accompanying him is a business delegation of senior executives from a range of sectors including finance, infrastructure, pharmaceutics, architecture and transport – all areas in which the UK has expertise and where Argentina could benefit as it undertakes an ambitious reform agenda.
The UK is one of Argentina's largest trade and investment partners in Europe, and with the Argentine government embarking on an ambitious reform agenda, the UK is well placed to take advantage of the markets that are opening up.
The potential benefit to the UK economy of an EU-Mercosur free trade agreement is £2.5 billion per year and Lord Price's visit to the region will come ahead of the EU and Mercosur exchanging offers in May as they look to progress negotiations.
Argentina represents a market of over 43 million people. The EU has long been negotiating a free trade agreement with the trade block of countries with negotiations first beginning in 2000.
Lord Price visit follows a meeting between the Prime Minister and Argentine President, Mauricio Macri, in Davos in January 2016 as the UK and Argentina look to build a more productive relationship.
Lord Price is scheduled to meet with his peer Miguel Braun and Production minister Francisco Cabrera, and besides bilateral issues the officials are expected to address the EU-Mercosur trade talks. The situation for an agreement has changed radically since the new Argentine government, with the support of Brazil and Uruguay are openly in favor of the trade accord.
The British minister who joined the cabinet last February and runs a chain of supermarkets in London, was also expected to visit Transport minister Guillermo Dietrich.
His visit to Colombia saw him take a contingent of businesses covering professional services, oil and gas and healthcare. As Colombia's second largest investor, the UK accounted for 13.2% of investment over the last decade and, according to EU figures, 2015 saw UK goods exports increase by 21.5% compared to the previous year.