Folha exposes Rousseff's 'exit with dignity' next week and plans for a comeback strategy
Friday, May 6th 2016 - 08:07 UTC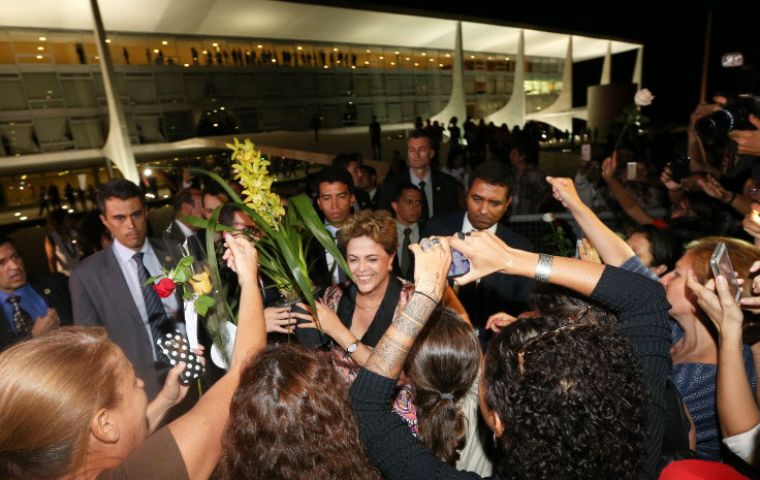 President Dilma Rousseff laid out the details last Monday for what she calls her "bunker of resistance": a team of advisors to be installed in the Alvorada Palace next week. It will have a maximum of 15 members, according to a report to one of the main dailies, Folha de Sao Paulo.
Rousseff has also decided that on May 12, when she is likely to be suspended from her duties for up to 180 days, she will leave her office by descending the main ramp at the Planalto Palace, accompanied by ministers, advisors, friends and perhaps even her predecessor Lula da Silva.
After this, she will meet in the official presidential residence with a small group of allies, though officially this should not include any current government ministers.
Jaques Wagner (Personal Office of the Presidency), Ricardo Berzoini (Government Secretary) and Edinho Silva (Social Communication) will undergo "quarantine", a remunerated period of time during which they will be unable to act as ministers, in order to avoid a conflict of interest. However, they will help "informally" Rousseff's "HQ".
In the select group to be installed at the Alvorada are allies such as Giles Azevedo (special advisor to the presidency), José Eduardo Cardozo (Attorney General), Carlos Gabas (Civil Aviation), Tereza Campello (Social Development and Anti-Hunger) and Alessandro Teixeira (Tourism), as well as the president's personal advisor, the journalist Bruno Monteiro.
Rousseff wants the group to gather information on her government and create a strategy for the period of up to six months that she could be suspended from her duties while the Senate considers the case for her impeachment.
Advisors at the Planalto Palace have obtained authorization from the president of the Senate, Renan Calheiros, for a plane from the Brazilian Air Force (FAB), cars, security teams and Rousseff's team of 12 to 15 special advisors, for the time she is suspended.
Rousseff's predecessor Lula and PT leaders are encouraging Rousseff to travel around Brazil - and perhaps even abroad - to denounce what they call a "coup" and what would be an "illegitimate" government formed by Vice-President Michel Temer (PMDB).
Rousseff was advised to leave the presidency "with dignity" and agreed to the idea of descending the ramp up to the Planalto Palace on the day she begins her suspension.
PT leaders will also take party activists and representatives from social movements to the Planalto Palace, in a show of support for the president.