Venezuela accuses Washington and the opposition of plotting to overthrow Maduro
Saturday, May 7th 2016 - 13:22 UTC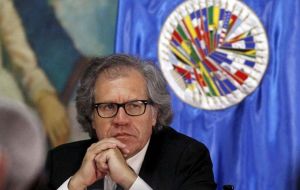 Venezuela's foreign minister accused the United States of conspiring to topple President Nicolás Maduro's government in conjunction with Venezuela's opposition. Minister Delcy Rodríguez says the plot includes attempting to remove Maduro's government from the Organization of American States in conjunction with the organization's secretary-general, Luis Almagro.
"This is part of the ongoing and relentless aggression by the United States against Venezuela," Rodriguez said on Thursday at a meeting of OAS permanent council.
"Venezuela has permanently been threatened by opposition forces in conjunction with imperial centers that support this type of destabilization against our countries," said Rodriguez, referring the role played by the OAS in allegedly supporting the actions of the opposition.
Rodriguez outlined the history of violent and anti-democratic behavior by Venezuela's opposition, including the protests held after the 2013 special ballot that elected Nicolas Maduro president.
Those protests were followed by even more violent protests in early 2014 that formed part of a strategy known as "The Exit" that sought to oust the Maduro government by force, argued Ms Delcy Rodríguez.
She also claimed Venezuelan diplomats' work said has been hindered by not being able to travel to the United States because visa requests have been denied.
"I challenge the United States State Department to demonstrate that what I am saying is not true, if they do not, I will show the note," she affirmed.
Last year, Almagro alleged the Venezuelan government was stifling political dissent, controlling the media and blocking opposition leaders from running for office. Maduro has called the Uruguayan diplomat "a piece of garbage."
Michael Fitzpatrick, interim permanent representative for the United States, said Venezuela's growing shortages of basic goods and limited opposition voices was troubling.
Meanwhile, lawmakers representing Maduro staged a one-day walkout from the National Assembly, where they are the minority. Minutes after the walkout, Maduro supporters surrounded the Legislative Palace in downtown Caracas, shouting insults and chanting slogans against the opposition.
Opposition lawmakers are "traitors to the fatherland," the mob was yelling.
Opposition legislator Freddy Guevara announced this week that the assembly would pursue impeachment proceedings against Maduro for an alleged breach of the country's constitution.
Opposition leaders in Venezuela have been relentless in what the government deems a destabilization campaign. Opposition figures met with the secretary-general of the OAS to invoke the Democratic Charter, which would see Venezuela suspended from the regional body.
Rodriguez classified the efforts to invoke the Democratic Charter as "grave" since Venezuela has fought for inclusion and the only break in constitutional order came in 2002 as the result of a short-lived coup.