Fitch downgrades Brazil's sovereign debt into junk territory, as political crisis deepens
Monday, May 9th 2016 - 11:29 UTC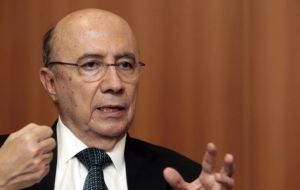 Fitch Ratings downgraded Brazil's sovereign debt further into junk territory on Thursday, citing a deeper-than-expected economic contraction and changing fiscal targets that have undermined credibility. The agency downgraded Brazil to BB from BB+ with a negative outlook a week before a Senate vote that is expected to lead to the suspension of unpopular leftist President Dilma Rousseff.
Henrique Meirelles, a likely finance minister if Vice President Michel Temer becomes president, said the first step Brazil must take is to establish realistic targets.
"Everyone increasingly needs to know that what is signaled, what is declared a goal or a target, will be achieved," he said during a televised interview with Globo News.
The ratings agency in December had stripped Brazil of its investment-grade status in what was a bitter reversal for Latin America's largest economy, seven years after a commodities-fueled boom helped propel it to the coveted top rating.
Fitch said the outlook had weakened further since December, with 3.8% economic contraction expected in 2016 due to "the high level of political uncertainty" as well as deteriorating labor markets and a slowdown in Brazil's top trading partner, China.
If the Senate votes on May 11 to try Rousseff on charges of allegedly manipulating budget accounts, as expected, she will immediately be replaced by Temer during the six-month trial.
Fitch's Brazil director, Rafael Guedes, said in a phone interview the deterioration of Brazil's economic outlook is similar to that of neighboring Argentina in 2001. He said, however, the country's debt could be upgraded quickly if the government takes action to reduce a ballooning debt burden.
Meirelles, a former central bank chief, said the country's main challenge is to pass measures that would make public debt levels sustainable. He has repeatedly expressed concern with the trajectory of Brazil's rising public debt.
In February, ratings agency Moody's cut Brazil's rating by two notches to junk level, while S&P has Brazil at BB, two notches below investment grade