Massive protest in Comodoro Rivadavia against the oil industry weak activity
Monday, May 9th 2016 - 07:33 UTC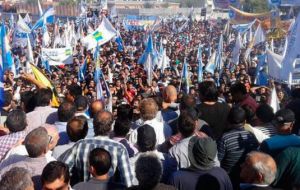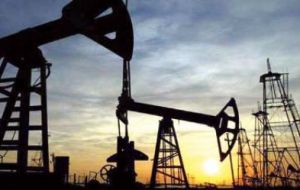 More than 50,000 workers blocked the centre of Comodoro Rivadavia, in Argentina's Patagonia main oil-producing region in a protest against layoffs. Striking oil workers were joined by teachers, truck drivers, builders and other sectors in the demonstration.
It was the latest of numerous street protests against cutbacks imposed by President Mauricio Macri since he took office in December.
The city of 200,000 people in the Patagonia region lies in a major oil and gas producing area and is also home to fishing and livestock industries.
Television pictures showed protesters occupying a major highway in their cars and trucks, waving flags and banners.
After 12 years of populist government, the administration of Macri has opened up Argentina's economy to outside markets and cut jobs in the public sector. He has devalued Argentina's currency and raised the prices of utilities and fuel.
Macri's opponents say his reforms are hurting poorer families' spending power and destroying private sector jobs.
Unions are demanding the President bring down the soaring rate of inflation, which has driven up the price of food and is forecast to hit 40% this year.
However the conflict is the province of Chubut, which has been ongoing since January involves mostly oil production, the main industry, since companies are demanding a subsidy to continue extracting and exporting crude. In effect last February the federal and provincial government agreed on a US$ 10 compensation for each barrel of oil exported, US$ 7.50 Buenos Aires matched by US$ 2.5, from Chubut.
But companies are also demanding the payment of arrears from 2014 and 2015, promised in the form of incentives to produce oil and gas. Apparently president Macri has promised to come up with the money next June/July, but companies have said, privately, that until the barrel of oil is not back at US$ 50, 'rationalizing' staff will continue (cutting jobs and costs). Allegedly the companies involved are Pan American Energy, YPF and Pecpetrol.
At the end of the rally Comodoro Rivadavia Carlos Linares said that the city "has shown Argentina that we can, that when we said the whole city was going to stop and rally, despite doubts, we accomplished it: here we are 60.000 neighbors and friends, and supporters from other cities and the oil industry workers from the region".
"We all know who are the oil operators, the big culprits behind all this, those companies that have helped promote this huge rally in this wonderful city", he concluded.