Macri strikes deal with business leaders to suspend layoffs but Congress criticizes
Tuesday, May 10th 2016 - 08:55 UTC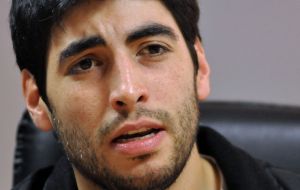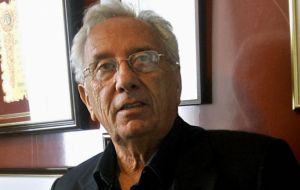 Argentine President Mauricio Macri has struck a temporary deal with local businessmen and some unions to suspend layoffs for 90 days. Macri's announcement of the deal on Monday comes as job cuts and high inflation rate are worrying many Argentines and Congress is in the process of approving an anti-layoffs bill that doubles severance pay and bans layoffs without cause for 180 days.
The accord announced Monday's evening also includes business leaders commitment to create jobs by increasing investment, one of the demands from the pro-business Macri administration.
Macri has said measures are needed to jump start Argentina's stagnant economy and end economic distortions that have led to years of high inflation.
Trumpeting the deal Macri held a press conference at Government House in which he underlined his commitment to his administration's plan to turn around the country's shrinking economy.
"We need to have a serious discussion on employment. (New jobs come) from trust, from having clear business rules, from attracting investment," Macri said from Casa Rosada. "Not from imposition and obstacles."
"Generating jobs it's an obsession for me," Macri said during his brief address aired across the Argentine national news channels. "But we don't want just any kind of jobs — we want quality, skilled jobs which add value."
He said that he wanted workers to see employers as "fellow-travelers" and insisted that the only way to create quality jobs was "through investment."
However the closest to an official document the government managed to produce was a single sheet of paper without signatures from the unnamed business leaders — who called themselves "job creators" — who have made a number of promises for the upcoming months.
Agriculture Minister Ricardo Buryaile said the accord announced is technically a "public or moral commitment" by some of the country's top business leaders, who agreed to maintain their payroll for a month and a half.
The deal does not mean that companies are barred from firing any staff over the next 90 days, but that the firms agree to vow "to maintain their payroll" during that period.
According to political analysts, Macri's announcements are part of a plan to show a "hands on" approach to the growing problem of unemployment, which consultancy firms say are among the top worries of Argentine voters. Also, the new program comes after the ruling party failed to block a debate in the Senate over the bill that imposes double severance pay for employees who lose their jobs over the next six months.
"We consider that the 'anti-layoffs' proposal, which already received preliminary approval (by the Senate), to be a clamp on jobs, which will make investment more difficult," the letter reads.
Opposition leaders were not impressed by the public declarations, saying that legal measures and not informal deals were needed to deal with job cuts.
"Workers need certainties and laws," national lawmaker Facundo Moyano, an ally of Renewal Front leader Sergio Massa, said. "We need to put an end to dismissals and that can only be achieved through real tools."
Another Renewal Front lawmaker Marco Lavagna said the accord has "no legal conditioning, it's just a good faith paper and businesses can still layoff". Anyhow "it's a good sign that the government accepts that employment is a problem".
Opposition leader Hector Recalde from the Victory Front of Cristina Fernandez and an expert in labor legislation claimed business leaders "are not committed not to lay off workers but rather to retain the payroll, which is different". He added the accord was tricky, if not contradictory "one thing is not to reduce the payroll and another to replace the old staff with new staff", to cut social costs.
"Nevertheless with the review of redundancies, there is a vision from the business community not to fire people and that employment has become a major issue", affirmed Recalde.