Malcorra/Hammond meet in London: Falklands and confidence building mechanisms in a long agenda
Thursday, May 12th 2016 - 04:06 UTC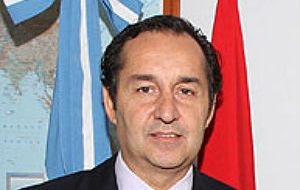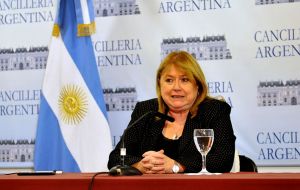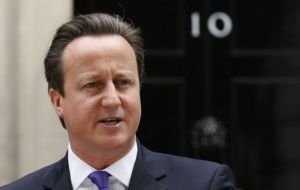 Argentina's foreign minister Susana Malcorra will be in London this Thursday to attend a global summit on combating corruption, and is expected to meet with her peer Philip Hammond, and probably address the Falklands issue, according to Argentine official sources. Malcorra is accompanied by Fulvio Pompeo, Secretary for Strategic Affairs from Argentina's presidency, and a very close advisor to president Mauricio Macri.
The meeting could be the kick-off for lifting the "full brake" on Falklands/Malvinas discussions between Argentina and the UK, according to recent statements from Malcorra.
"After many years of a 'full brake', we will begin to advance and see what we can do, and there are many issues that can help to build some mutual confidence mechanisms which for years have been completely lost; we are opening a bilateral agenda from a trade and investment point of view, which could advance to other fields", pointed out the foreign minister.
The two-day meeting in London under the umbrella of the Global Anti corruption summit convened by Prime Minister David Cameron, will gather world leaders, corporations' CEO's, members of the civil organizations, representatives from multilateral bodies (World Bank, IMF, G20, UN, OECD) with the purpose of agreeing on a raft of measures to intensify global action to expose, to combat and to punish corruption in all fields.
The meeting will have the further spice of the so called Panama Papers, which have leaked companies and names of rich and famous, who allegedly hid funds and assets in tax havens. The exposure has been quite embarrassing for several world leaders, Cameron, Macri, Putin, and has forced the resignation of some such as Iceland's PM.
From London, Malcorra leaves for Lebanon, for a Middle East peace proposal; China, 18,19,20 May to discuss the many accords signed by Argentina with Beijing; later Qatar, Turkey and finally Mexico, 24 and 25 May.
Earlier this week it was confirmed by Argentina's cabinet chief Marcos Peña that Ms Malcorra could be nominated by President Macri as a candidate to succeed Ban Ki-moon next November as UN Secretary General. If successful she would become the first woman to occupy the post, and for which there is a growing global consensus. "It would be an honor for Argentina and for this government", said Peña.