Senate votes to remove Rousseff, but the target number is 54, two thirds of the upper house
Thursday, May 12th 2016 - 08:37 UTC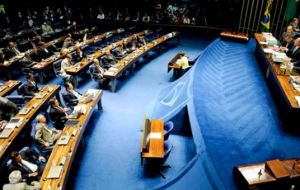 A clear majority of Brazil's Senate indicated on Thursday it will vote to put President Dilma Rousseff on trial for breaking budget laws, signaling the end of 13 years of rule by the populist Workers Party in Latin America's largest nation.
In a marathon session of speeches, 41 of the 81 senators had indicated by the early hours of Thursday morning that they would vote to put Rousseff on trial, a move that would suspend Brazil's first woman president.
However the magic number is 54, since at this stage Rousseff would be suspended by a simple majority (41), but at the end of the following period, 180 days, the Senate needs two thirds of the house to definitively remove the elected PT president. And that number is 54.
In other words the Senate has six months to decide whether there are merits to impeach and a definitive removal of Rousseff, but for that needs two thirds of the Upper House votes. But if at this stage the Senate manages over 54 votes, Rousseff's chances of a comeback can be considered completely eliminated.
At this stage the final vote, expected around Thursday dawn, would make Vice President Michel Temer acting president during six month trial.
Senate President Renan Calheiros said he wanted the vote to take place Wednesday night, but the pace of the historic session was sluggish. After nearly 12 hours, fewer than half the 70 senators slated to speak had made their addresses, sparking predictions that the vote itself probably would not come until the early hours.
"I'm asking for everybody's patience because we need to see this through to the end," Calheiros said at one point.
Under the rules of the impeachment process, each senator was allowed up to 15 minutes to speak, and many made full use of their moment in the spotlight.
Meanwhile several thousand pro and anti-government impeachers meanwhile gathered outside the Senate, each group kept on opposite sides of a wall erected down the middle of the lawn.
Small but intense clashes broke out between police and Rousseff supporters, with police using pepper spray and protesters throwing firecrackers at police lines.
Senator Romero Juca, an ally of vice president Michel Temer said the new acting president will swear in new ministers on Thursday if he is handed the reins of power by a Senate vote to put President Dilma Rousseff on trial.