HMS Kent in London: Battle of Jutland centenary commemorations
Saturday, May 14th 2016 - 07:46 UTC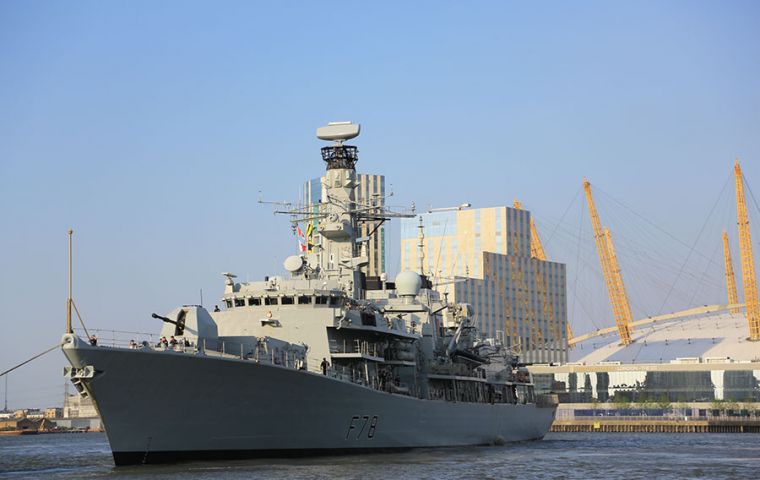 HMS Kent is visiting London this weekend on her way to take part in the Battle of Jutland centenary commemorations, in which she will play a central role. This year marks 100 years since the Battle of Jutland, the greatest sea battle of the 20th Century.
HMS Kent will leave London for Rosyth, a major port and key ship building area of the First World War, where she will take part in events organized by the Scottish Government at South Queensferry. She will then sail for Scapa Flow where she will provide a gun salute.
Whilst HMS Kent is in London she will conduct a Capability Demonstration for representatives of London's emergency services, showing the Royal Navy's ability to deliver defense diplomacy and disaster relief, through to high end war fighting.
The Commanding Officer, Commander Daniel Thomas Royal Navy said: "Taking a Royal Navy warship to London is always a huge honor but particularly so in the year of Her Majesty the Queen's 90th Birthday. The voyage to London is also special for HMS Kent as the Thames borders our affiliated County and we look forward to welcoming dignitaries and friends onboard and demonstrating the Royal Navy's ability to protect the UK and its citizens in times of need."
HMS Kent is the fourteenth of the Royal Navy's sixteen Type 23 Frigates. She was launched by her sponsor, Her Royal Highness Prince Alexandra, The Honorable Lady Ogilvy, on 27th May 1998. The Commanding Officer is Commander Daniel Thomas Royal Navy.
Normally she has a Ship's Company of 185. Designed specifically for anti-submarine warfare, she is capable of carrying out a wide range of operations, including counter-piracy activities, disaster relief work and surveillance operations as well as high intensity war fighting. The ship is capable of speeds up to 28 knots, with a 7800 nautical mile range.
Just under a year ago, HMS Kent was the first British warship to sail into the Gulf as part of the UK/French carrier task group. The Type 23 Frigate provided vital anti-submarine protection for the French aircraft carrier Charles de Gaulle (and previously USS Carl Vinson). The role saw the ship protecting the carrier and other battle group ships from underwater threats as they conducted strikes against Daesh in Iraq. During the operation HMS Kent sailed more than 47,000 miles, conducting maritime security patrols whilst reassuring the merchant traffic in the region as they continued their vital trade.
Involving some 250 ships and 100,000 men, the Jutland battle off Denmark's North Sea coast was the only major naval surface engagement of World War I. The battle began in the afternoon of May 31, 1916, with gunfire between the German and British scouting forces. When the main warships met, British Admiral John Jellicoe maneuvered his boats to take advantage of the fading daylight, scoring dozens of direct hits that eventually forced German Admiral Reinhard Scheer into retreat.
Both sides claimed victory in this indecisive battle, though Britain retained control of the North Sea.