Guatemala/Belize conflict erupts following another border killing
Monday, May 16th 2016 - 07:35 UTC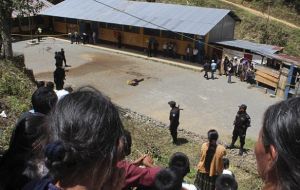 Tensions over a disputed border between Guatemala and Belize again erupted over the weekend with a new shooting incident less than a month after Belizean soldiers killed a teen. Belize said one of its patrols had to shoot and wound a Guatemalan man who threatened them with a machete after he was found on the Belize side of the border with companions illegally prospecting for gold.
Guatemala slammed Belize for using "excessive force" and rejected the account of the Guatemalan man attempting to attack an armed patrol with a machete.
The incident occurred late Friday, just hours after a team from the Organization of American States visited a different part of the border to examine the area where a 13-year-old Guatemalan boy was killed by another Belizean patrol on April 20.
The OAS is trying to mediate a crisis that blew up over the boy's death, bringing to the fore a 150-year-old dispute between the Central American countries over the border.
Guatemala has made claims over more than half of Belize's territory dating back to when its small neighbor was a British colony known as British Honduras.
Guatemala and Belize each insist the boy's killing happened on its side of the border. Belize said a patrol came under fire and shoot back. Following the death, Guatemala mobilized thousands of troops to the border and nearby area.
Both countries have called on the OAS to thoroughly investigate the boy's death.
In the latest shooting incident on Friday, around a dozen Guatemalans were surprised by a patrol eight kilometers (five miles) inside Belizean territory while looking for gold.
A Belizean government statement issued on Saturday said a 23-year-old man in the group "advanced towards a member of the patrol in an aggressive manner with a machete."
It said the officer fired a warning shot that was ignored, then "in self-defense" fired another that wounded the Guatemalan in the left arm.
Three Guatemalans including the wounded man were arrested.
Guatemala's foreign ministry in its own statement did not dispute that the Guatemalans were on Belizean territory. But it contested the Belizean assertion that the wounded Guatemalan tried to threaten the patrol with a machete.