Falklands hopeful of improved relations with Argentina, Gilbert House tells BIMR conference
Tuesday, May 17th 2016 - 06:23 UTC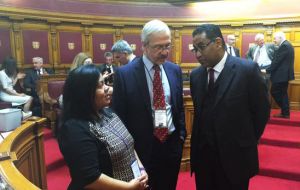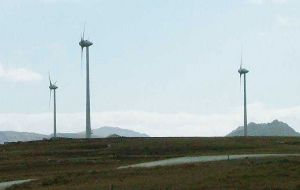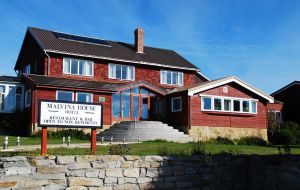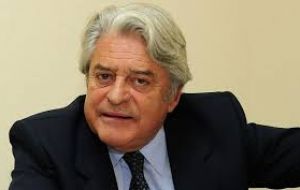 Falkland Islands remains hopeful of improved relations with the new administration of Argentina and cooperation in the many areas of mutual interest such as fisheries and connectivity, but sovereignty of the Falklands is not for negotiation, reads the Gilbert House report to the 46th British Isles and Mediterranean Region Conference, which opened on Sunday in Jersey.
Delegates, including politicians and civil servants from England, Scotland, Northern Ireland, Wales, Guernsey, Malta, Gibraltar, Cyprus, Alderney, Isle of Man, St Helena, and the Falkland Islands are attending the event. Falklands is represented by Member of the Legislative Assembly, Dr. Barry Elsby and was responsible for delivering the 2015/2016 report of outputs and deliverables.
Following a listing of advances and achievements since the last meeting in Cyprus, in the fields of housing, wind power, hydrocarbons, the need for greater hotel capacity, the report also emphasizes on the negative impacts for the Islands of Brexit, given the Islands direct access to the EU, with no quotas and tax free.
Likewise the Falklands' efforts and investment in scientific research, education, academic exchanges, and finally relations with the continent and Argentina.
The new Argentine administration has opened a window of improved relations but some recent statements on the ocean shelf and a joint statement with Spain are not considered constructive. However links with Chile and Uruguay have improved, with the Falklands participating in Uruguay's main agriculture show and hosting Uruguayan lawmakers and a former president.
But despite Argentina's position, "the right of Falkland Islanders to determine our own future is enshrined in the charter of the United Nations and all political parties in the United Kingdom have been unstinting in their support for us".
Follows the report posted at BIMR CPA branch Reports.
Since the last meeting in Cyprus the Falkland Islands have continued to develop economically and whilst not immune from the turmoil in world markets, we have no national debt and no unemployment.
We have continued to develop our infrastructure including a new high quality housing development to meet the growing need of our community.
The latest round of oil exploration in our waters has recently finished. This included further discoveries together with much important data on the potential for further commercial fields. The development of our first proven commercial oil field has been delayed by the fall in the price of crude oil but our economy is not dependant on it.
Whilst exploring for hydrocarbons we remain committed to protecting our pristine environment by applying standards equal to or in some cases in excess of those in the North Sea.
We continue to invest in renewables and develop our proven expertise in wind energy. We are now supplying the military base in the Islands with electricity derived from wind power, helping them reduce costs and meet their own renewables target.
We are developing a new waste management plan for the Falkland Islands, linking this with the needs of the Oil industry and the military.
Our traditional industries of agriculture, fishing and tourism remain strong, with a steady growth of visitor numbers. This has necessitated the construction of more hotel accommodation in town, together with a modern cinema.
Most of our meat, wool and fish is exported directly into the EU, quota and tax free, as we are an Overseas Territory of a Member State.
As the United Kingdom moves towards the referendum on continued membership we, like other OTs, have raised with Ministers the effect that withdrawal will have on our economy.
We have placed great emphasis on Safeguarding our children and a recent independent review has shown that we are working to high standards.
We are working closely with our private sector nurseries to ensure they offer the same high standards seen in the government run facility.
We have used the opportunities of meetings with other OTs to share our experiences.
We continue to invest heavily in Education with students going overseas for further or higher education receiving full funding from the Falkland Islands Government.
We are increasing the availability of internationally accredited apprenticeships and vocational courses in the Islands.
Our South Atlantic Research Institute hosted a pan American scientific conference and continues to build an international reputation for high quality sub Antarctic research. We host a number of PhD students from a range of countries.
Our relationship with the Government of Argentina has been increasingly difficult as they continue in their attempts to blockade our country. Their threats against oil companies working in our waters, cruise ships visiting and attempts to prevent Falkland flagged vessels visiting ports in the region have failed.
Our links with neighbors such as Chile and Uruguay continue to grow.
In September 2015 the Falkland Islands attended El Prado in Uruguay, a huge agricultural and business fair held over a period of 10 days. Up to 10,000 people per day entered our pavilion, almost all of whom were supportive of the Islands.
This year Luis Alberto Lacalle, a previous President of Uruguay, accepted our invitation to visit the Falkland Islands. His visit was a great success.
In November last year Mauricio Macri was elected as the new president of Argentina.
We hope his election will result in an improved relationship between our countries.
The right of Falkland Islanders to determine our own future is enshrined in the charter of the United Nations and all political parties in the United Kingdom have been unstinting in their support for us.
Our hopes for a new relationship with Argentina remain but recent unhelpful and wholly inaccurate statements from their Foreign Minister in relation to a technical report from a United Nations committee on their continental shelf makes the process more difficult.
A recent joint statement by the Argentine and Spanish Foreign Ministers in regards to the Falkland Islands and Gibraltar was similarly unhelpful.
We remain hopeful that the new administration in Argentina will reflect on these matters. Sovereignty of the Falkland Islands is not for negotiation but there are many areas of mutual interest such as the exchange of scientific data on joint fish stocks and the resumption of charter flights to the Islands could resume.