The Army must decide is they side "with the Constitution or with Maduro", says Venezuelan opposition
Wednesday, May 18th 2016 - 11:39 UTC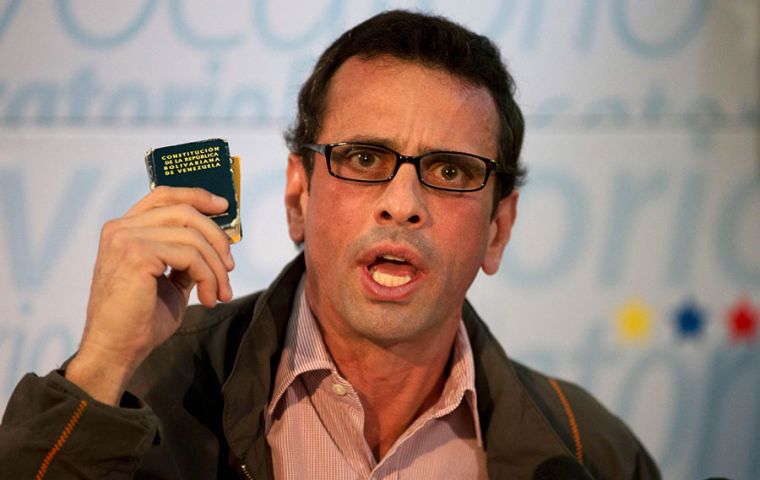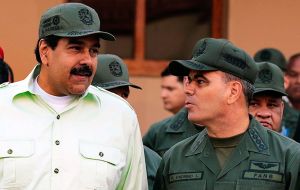 The army in crisis-hit Venezuela has to choose whether it is "with the constitution or with [President Nicolas] Maduro," opposition leader Henrique Capriles said on Tuesday.He made the statement to journalists after Maduro decreed a state of emergency broadening the powers of soldiers and police - and a day before opposition-led marches demanding a referendum to oust the president.
There was no sign however of faltering loyalty to Maduro in the military, from which his late predecessor Hugo Chavez hailed.
On Wednesday, opposition protesters across the country are to demand that authorities validate a petition calling for a recall referendum against Maduro.
The opposition says electoral officials are stalling on the process. Last week, a similar march in Caracas was stopped by riot police firing tear gas.
"I say to the armed forces: the moment of truth has arrived - to decide whether they are with the constitution or with Maduro," Capriles told a news conference.
"That is a decision for the military," he said
But Maduro hit back in a near four-hour news conference in which he called the referendum "not viable" and accused the United States of playing a role in the woes rocking the oil-rich country.
He said Washington had "imperial" designs on Venezuela, adding that a US AWACS surveillance plane had twice violated his country's airspace last week.
Maduro said he called the state of emergency, which came into force on Monday for a renewable 60-day period, to see off threats to the country.
Maduro has also ordered military exercises for Saturday.
The opposition, which controls congress but has little real power because of Maduro's sway over the government, Supreme Court and security forces, says the emergency decree is an attempt by the president to put himself above the constitution.
With the country in the grip of hyperinflation, a shrinking economy, rampant crime, corruption, and food and electricity shortages, sentiment has turned against Maduro, the chosen successor of the late Hugo Chavez.
Maduro has cast the blame elsewhere: on a prolonged drought that caused a lack of hydroelectricity, on oil prices for decreased spending and imports, on business owners for withholding supplies, on the United States for the political challenge to him. But 70% of the population wants to see a new government, polls show.
"We are victims of a media, political and diplomatic attack that is behind the most serious threat our country has faced in the past 10 years," Maduro told the news conference linked by Internet to Venezuelan embassies and consulates abroad.
He said his country was the target of "imperial interventionism" similar to a "coup" he alleged happened in Brazil last week, when his counterpart Dilma Rousseff was suspended by senators ahead of an impeachment trial.