Lula's most trusted and closest political advisor sentenced to 23 years in prison
Thursday, May 19th 2016 - 08:02 UTC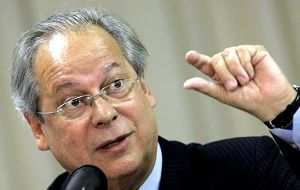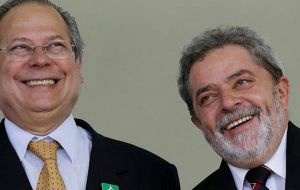 A Brazilian federal judge on Wednesday sentenced Jose Dirceu, a former presidential chief of staff, to 23 years and three months in prison for his role in a massive corruption scheme centered on state-controlled oil company Petrobras. Judge Sergio Moro, who is spearheading the bribes-for-inflated contracts probe, found Dirceu guilty of accepting and paying bribes and money laundering.
Dirceu was former President Lula da Silva's chief of staff from 2003 to 2005 before being forced to step down over a congressional vote-buying scheme. In 2012, Brazil's Supreme Court sentenced him to nearly 11 years in prison in that case.
The latest sentence handed down against Dirceu is the stiffest thus far in the sprawling Petrobras probe, which has involved around 50 politicians from across the ideological spectrum and top executives from a score of private-sector firms.
Investigators say a cartel of construction and engineering companies overcharged the oil giant for contracts, splitting the extra money with corrupt Petrobras executives, as well as with politicians who provided cover for the graft.
Moro justified the lengthy sentence by noting that Dirceu served as a key architect of the complex bribes-for-contracts scheme even after having being convicted over the vote-buying, a corruption case dubbed Brazil's "trial of the century."
The judge said there was "aggravated guilt" in Dirceu's case because, among other things, he was found to have continued to receive illegal commissions stemming from the Petrobras scheme while serving out his prior sentence under house arrest.
Dirceu spent two decades as the political right arm of Lula, founder of the Workers Party, or PT, and predecessor and political mentor of Dilma Rousseff, who has been impeached and suspended from office for allegedly violating budget laws.
Once seen as the natural heir to Lula, Dirceu was forced to resign as presidential chief of staff in the summer of 2005 after lawmaker Roberto Jefferson accused the PT of having bribed legislators of other parties to build the congressional majority that the government failed to obtain at the polls in 2002.
Dirceu a former guerrilla who ended up in Cuba in the seventies, changed his name, his physiognomy, and went back to Brazil to begin a new life, allegedly with Cuban support. He ignored his original family he had left in Brazil and quickly became a close advisor of Lula da Silva, who at the time was an ascending union leader.
Lula da Silva turned into politics with the creation of the Workers Party in the eighties, and since then became a reference of Brazilian politics. On the fifth attempt with different coalitions he finally was elected president at the end of 2001, taking office January 2002, with Dirceu as his most trusted advisor.
Dirceu's office, from where he created and manipulated all the schemes to ensure funds to have a necessary majority in Congress to pass legislation, was next to that of Lula da Silva, but the president at all times has declared he was unaware of what was going on.