Maduro prepared to escalate state of emergency following massive protests
Thursday, May 19th 2016 - 08:14 UTC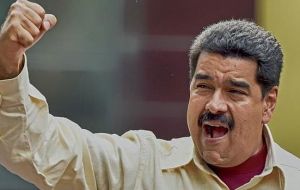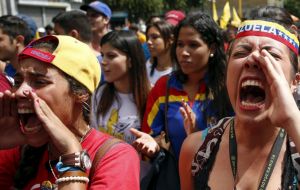 Venezuelan President Nicolas Maduro said on Wednesday he was prepared to escalate a state of emergency imposed this week after opposition-led protests in the capital and other cities. Maduro told supporters he would give the order - which implies suspending laws and rights to maintain public order - if "violent" anti-government acts occurred.
In that event, "I will not hesitate if necessary to make such a decree to fight for the peace and security of this country," he said.
The declaration came after a massive anti-Maduro demonstration in the center of Caracas that was prevented from marching on to an electoral headquarters by riot police firing tear gas.
The opposition, which controls parliament and which organized several rallies on Wednesday, is seeking a recall referendum to oust Maduro. But the Venezuelan leader, the handpicked successor to late president Hugo Chavez, has dug in.
Faced with a crippling recession triggered by low prices for the oil Venezuela depends on, and hyperinflation, severe energy and food shortages, Maduro ordered a state of emergency starting this week.
So far its effects have been limited to diverting some scarce food for handout to poor citizens, and greater police and military vigilance.
But the "estado de conmocion interior" Maduro is now threatening could take matters further - allowing the government, for instance, to impose greater military control over the population.
The anti-government protest was the third in a week, and came days after Maduro declared the state of emergency. He gave himself decree powers for 60 days.
Thousands of people turned out for the march in downtown Caracas, but police blocked the route. A small group tried to break through and was turned back by tear gas.
On Tuesday, opposition leader Henrique Capriles called on the country to reject the extra powers granted Maduro.
"If Maduro wants to apply this decree, he needs to start preparing tanks and warplanes, because he'll have to apply it by force," Capriles said.
A majority of the country wants Maduro out, according to opinion polls. Venezuelans overwhelmingly voted for the opposition in congressional elections in December, but state institutions (Judiciary and Electoral Board under Maduro's control) have blocked the opposition-controlled congress from passing any legislation.