Meirelles on Tuesday will announce spending cuts to contain a huge fiscal deficit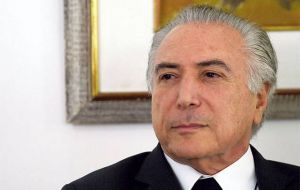 Brazil's government on Tuesday will announce spending curbs and other measures to reduce its rising debt burden and contain a fiscal deficit as it seeks to regain the confidence of investors, Finance Minister Henrique Meirelles said.
Speaking at an event in São Paulo on Monday, Meirelles said the short- and long-term measures will be aimed at helping pull Latin America's largest economy out of its worst recession in decades.
Interim President Michel Temer has embarked on a business-friendly program since taking over from suspended populist President Dilma Rousseff earlier this month. He named Meirelles, a former central bank governor, to lead the finance ministry.
But any new policy announcement this week could be overshadowed by reports that Planning Minister Romero Juca, a key member of Meirelles' new economic team, sought to stall a massive corruption scandal at state-controlled firms.
The government will deliver to Congress later on Monday a new deficit target of 170.5 billion Reais (US$47.92 billion) for 2016, which would be a record and equal to 2.75% of Brazil's GDP. The primary balance, or the difference between revenues and expenses before debt payments, is a key gauge of the health of a country's public finances.
From New York a former central bank governor Arminio Fraga warned Brazil's new government urgently needs to defuse fiscal "time bombs" that are set to blow up the country's already strained budget. The administration of Temer would have to reverse a planned increase in spending on education as well as growth in the pension system that together are set to add up to 12 percentage points of GDP to the budget in the next decade.
"If you do the arithmetic, it's explosive," said Mr Fraga at a conference in New York.
He added the challenge facing the interim Temer government on the budget was already extremely difficult even before accounting for the so-called time bombs of education and pensions.
The previous administration of Dilma Rousseff was running a 2% primary fiscal deficit. This meant the government was effectively borrowing money from the markets to meet its interest payments.
This was fuelling an increase in Brazil's gross public debt from 51.7% of GDP in 2013 to 66.5% of GDP last year.
Fraga said that if other liabilities were included, such as the need for loans to help state governments struggling with the recession and the likely need to recapitalize Petrobras, public debt would rise to 75-80% of GDP.
To stabilize the debt, the Temer government would need to begin posting a primary fiscal surplus of 3-4 percentage points of GDP, which meant it would have to find a total of 5-6 percentage points of GDP in cuts to public expenses or new tax revenues.
However, Brazil has also created a new law that envisages doubling spending on education from 5% to 10% of GDP over 10 years. The pension system is also expected to grow in cost by 7% of GDP over the next decade.
Both of these together would add a further new burden of up to 12 percentage points of GDP to the budget at a time when the government is struggling to come up with savings of 5-6 percentage points.