Temer announces tough austerity measures but needs to show Congress supports him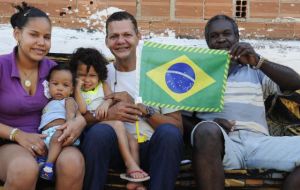 Brazil's interim president announced austerity measures on Tuesday aimed at pulling Latin America's largest economy from its worst crisis in decades, warning that a failure to act would sentence future generations to "extraordinary hardship." Speaking with government leaders in a national televised meeting, interim president Michel Temer, 75, also banged his hand on the table while insisting he was up to the job.
Temer said the government would get an early repayment of about US$28 billion from Brazil's state-run investment bank BNDES and immediately abolish a fund created to channel Petrobras oil revenues into education.
Temer also pledged to limit growth in government spending to the rate of inflation, currently around 10%. The most aggressive belt-tightening plans will depend on Congress, which must vote in coming months whether Temer will stay in office through 2018 or allow suspended President Dilma Rousseff to return after an impeachment trial.
Temer, who was vice president, took over this month after Rousseff was impeached by the Senate for allegedly using accounting tricks in managing the federal budget. Rousseff has argued she did nothing wrong, and promised to fight permanent removal at her upcoming trial.
Interim leader for less than two weeks, Temer has come under mounting criticism on several fronts, from his decision to appoint a Cabinet of all white men to unpopular ideas his finance minister has floated, like raising taxes.
"I have heard: 'Temer is very frail, poor thing, he cannot govern. Nonsense!'" said Temer, whose normal mild manner has earned him the nickname "butler." ''I was public security secretary twice in Sao Paulo and I had to deal with criminals. I know what to do in government."
He was vague about a timeline for introducing legislation on his "No. 1 priority" of reforming the country's pension system. Last week, he appointed a commission to study and negotiate a reform. However, two of the country's largest unions refused to participate, saying they don't recognize his government.
"Further down the road, we will sentence the Brazilian people to an extraordinary hardship if we don't act," he said.
Brazil's economy is expected to contract almost 3.8% this year after a fall of almost 4% in 2015. Brazil lost its coveted investment grade rating in December and the central bank's benchmark interest rate rose to 14.25 percent as deficit spending by the government sent inflation surging into double digits last year. The budget deficit is on track to top 11% of GDP for a second straight year.
Finance Minister Henrique Meirelles, a former central bank governor heading Temer's economic team, said the reforms that will be sent to Congress in two weeks are aimed at securing the state's future solvency.
Brazil's currency and benchmark Bovespa stock index both gained on Tuesday, signaling investors were not overly optimistic that Temer's plan would lead to a quick economic recovery. Markets have generally warmed to Temer's government, which has vowed to pursue a more business-friendly program than the Rousseff administration, but the departure of a key minister on Monday showed the political challenges he faces.
The repayment by BNDES, starting with an immediate transfer of 40 billion reais, will save the government 7 billion reais a year, Temer said.
His government is also examining the legality of the BNDES move after Rousseff was put on trial by the Senate for allegedly using money from the state bank to boost spending during her successful 2014 reelection campaign.
Temer faces huge challenges to getting reforms through Congress. While many lawmakers rallied around the idea of impeaching Rousseff, agreeing on thorny reforms will likely prove much more difficult.
Temer also has to convince Brazilians that he can turn things around.
The IBOPE institute on Tuesday published a poll saying only 31% of Brazilians reported being "optimistic" or "very optimistic" about Temer's prospects, while 34% said they were "pessimistic" or "very pessimistic" and 30% reported feeling indifferent. Five percent did not respond. The poll interviewed 2002 people between May 12 and May 16 and had a 2 percentage point margin of error.