Falklands are "most satisfied with Chile links and excellent health services"
Thursday, May 26th 2016 - 06:34 UTC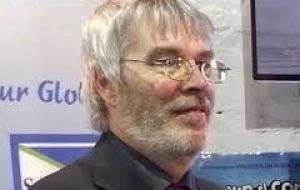 Falkland Islanders are very satisfied with the Chile links and health services in Santiago, was the first reply to media speculations in the Buenos Aires media regarding possible changes in the Argentine government attitude and policies towards the disputed Falklands.
In the last few weeks a couple of columns from a respected Argentine journalist, Martin Dinatale, in La Nacion, outlined some of the alleged ideas the new government of president Mauricio Macri is considering in its more amicable relation with the Falklands' people.
In what seems a test balloon Dinatale said foreign minister Susana Malcorra believes a new approach with the Falklands should expand scholarships in Argentine universities, offer Argentine hospitals for complicated cases and surgeries, sanitary emergencies, thus avoiding having to fly patients to UK or Chile, and even improved direct air links.
However elected lawmaker MLA Gavin Short told the Chilean media that so far, the Falklands have not seen any differences, since "all that which was set up by the previous government, seems to have remained in place".
"The scholarships are not new. They were offered by the late Kirchner government and so far, I believe, no one in the Islands has accepted one. The ideas put forward are not new", said MLA Short.
Furthermore "our economy is strong enough to allow us to chose where we wish to send our students, and patients demanding services we can't supply in the Falklands".
Likewise "we are most pleased and satisfied with our Chilean clinics contacts and the health services we receive in Chile are excellent". As to the Falklands' students, "our children normally continue their professional and tertiary studies in the UK, but if they wish, they can chose any university in any part of the world...We see no need or feel inclined to tie ourselves with Argentina for any reason"
As to flights from Argentina, most probably they will not be accepted by the people of the Falklands.
"Certainly we would celebrate more flights from our friends in South America, but my opinion is that flights from Argentina would not be accepted by the people of the Falklands, since Buenos Aires still has very much active its hostile claim over our country. We are not going to get indebted with such a country", underlined MLA Short.