Macri's government in "100% agreement" with the Church's dialogue message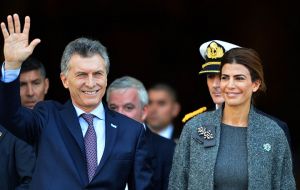 Argentina's cabinet chief Marcos Pena said president Mauricio Macri administration was "100% in agreement" with the Catholic church 25 May Day message "to leave aside statistics, think in the Argentine people and not fight among ourselves".
On Wednesday morning president Macri, the first lady, the cabinet and other top officials attended the Tedeum at Buenos Aires Cathedral as part of the celebrations of 25 May 1810, the so called May Revolution which triggered the independence movement in Argentina.
"We are 100% in agreement with the message from the Church, we agree with the creation of dialogue rounds", underlined cabinet Chief Pena, following the religious service.
"We are pleased that the Tedeum has returned to the cathedral. We agree the country needs peace, prosperity and look after the weak and fragile, the grandpas' and children; they are people not stats' numbers"
In effect the cabinet chief added that stats are good as reference, but at the end of the day "we are talking about people, we need to put heart and spirit, we must all work together to get the country ahead"
Buenos Aires Archbishop Mario Poli during the homily called on all those with a degree of leadership, "to commit themselves to service and not to be served: motherland does not begin or end with us, it transcends"
"The motherland is a continuous task and challenge for all of us. If we care for our brothers, we will always build and advance", said Archbishop Poli.
Likewise don't let "stats paralyze us. Let us not lose the necessary sensitivity to listen and help the weak, humble and poor. Attention priority must be given to children, grand parents, the most vulnerable to ensure development of a land of freedom".
President Macri spoke before the celebration and was more political: he promised that pensioners will receive back payments, pending for years, and anticipated that inflation will begin to fall when foreign investment begin "to flood" Argentina.
During the Kirchner years, presidents Nestor and Cristina, furious with the Church's message calling for helping the poor and condemning corruption, moved the 25 May religious celebration from Buenos Aires to more amicable or aseptic bishops in the provinces.