Maersk Lines leaving Montevideo port because of logistic operations problems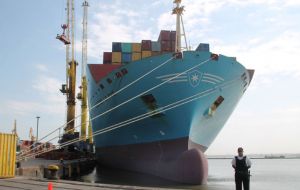 Maersk Lines, one of the world's leading shipping line has announced it won't be operating any longer in the port of Montevideo, Uruguay, because of logistic problems with the operations of its vessels.
According to Montevideo port sources, the access channel is not wide enough for Maersk 300 meters long vessels and thus difficulties to operate. Apparently the container giant transporter contracted bathymetry surveys, and reached the conclusion that the area was "not safe enough" for the its vessels, particularly docking operations,
In effect recently a major vessel had to be assisted by three tugs to be able to access the Montevideo hub, which is also an important terminal for transshipment of South Atlantic and land locked Paraguayan cargo.
However Maersk said the decision was not definitive but conditioned to the necessary width of the Montevideo port access channel, so that vessels can operate with no risks or delays.
Uruguay's national port authority, ANP, chief executive, Alberto Diaz was not available to comment on the matter but one of his advisors stated the news was "most negative".
The Montevideo hub access channel has a depth of twelve meters, and only recently ANP decided to extend the current dredging contract with Shanghai's Dredging Corporation that has been working in the bay and the different main and lesser accesses.
Only two weeks ago a bulk grain vessel, "Unity N" became the first vessel to leave Montevideo with a draft of 12.1 meters, which marked a record for the terminal. The vessel loaded 17.000 tons of soybeans completing a cargo which had already taken oilseeds in Nueva Palmira, another Uruguayan port further up the River Plate, close to the Parana River, and which also has dredging problems over a controversy with neighboring Argentina.
"Unity N" is 229 meters long, 33 meters wide and a 79.641 dead weight tonnage.