Falklands claim and UN chief post bid', "not incompatible" for Argentine minister Malcorra
Saturday, May 28th 2016 - 05:53 UTC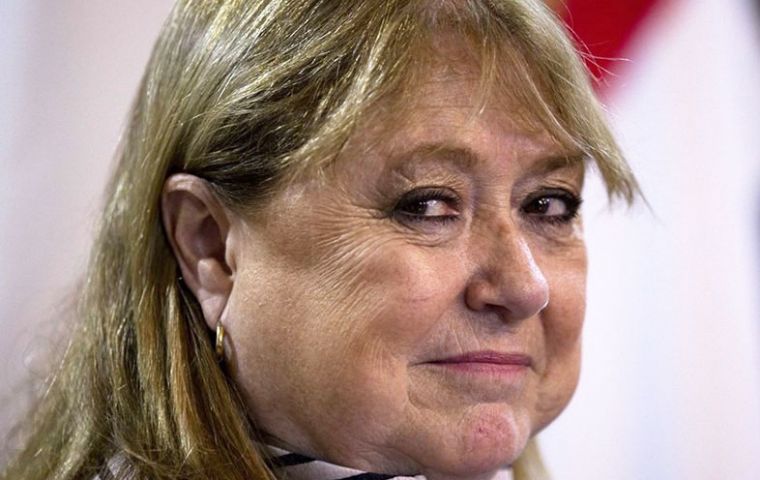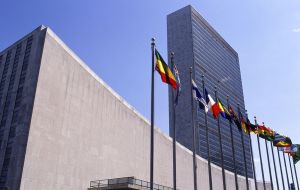 Argentina's foreign minister Susana Malcorra said on Friday she believes there's no conflict of interest between her bid to be the next U.N. secretary-general and her ministerial work including pressing Argentina's sovereignty claim over the disputed Falkland Islands.
Buenos Aires has long claimed sovereignty over the Falklands/Malvinas Islands, a British Overseas Territory which Argentina tried to take over by force with a military invasion in 1982, finally repelled by a Royal Navy Task Force. Furthermore, making use of its right to self determination, the Falklands overwhelmingly confirmed in the 2013 referendum to remain as a British Overseas Territory.
As foreign minister Susana Malcorra has lobbied for Argentina's claim and recently brought it up when President Mauricio Macri met with British Prime Minister David Cameron at the World Economic Forum in Davos, Switzerland. Argentina regularly raises the issue at the U.N. Decolonization Committee or C24.
"What we have been saying regarding the Malvinas is what we have said since the day we took office ... and I see no incompatibility" between that and becoming secretary-general, Malcorra said at a news conference in Buenos Aires, without explaining further.
The secretary-general is chosen by the 193-member General Assembly on the recommendation of the 15-member Security Council, of which the United Kingdom is a permanent member.
Traditionally the secretary-general job has rotated among regions, and people from Asia, Africa, Latin America and Europe have all held the post. Some in eastern Europe, including Russia, argue that their region has never had one of their own as secretary-general and it is their turn.
A group of 56 nations has also been lobbying for the United Nations to get its first female chief. Malcorra is a former U.N. undersecretary-general and chief of staff to Secretary-General Ban Ki-moon, whose term ends Dec. 31.