Falklands considering review of response protocol to visitors' misbehavior actions
Saturday, May 28th 2016 - 07:02 UTC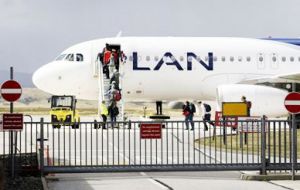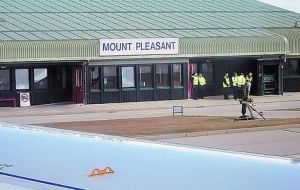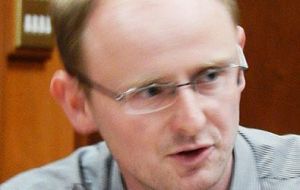 The Falkland Islands government is considering a review of the response protocol to actions committed by visitors who ignore Islands' rules or are involved in misbehavior, harassing locals as happened this month, reports the Penguin News in this Friday's edition. The different branches of Falklands' government act coordinately and effectively, in such cases and admit it usually involves a minority of Argentine visitors.
However the government is also aware that the issue needs a delicate balance between civil liberties, freedom of expression and being able to properly deal with those who maliciously cause distress.
Penguin News reports that action is being taken following LAN passengers recently attempting to take non permitted items on to a flight out of the Falklands. This refers basically to Argentines trying to take back "1982 war souvenirs".
Chief of Police Superintendent Len McGill told Penguin News: "Police information will be shared with other agencies including immigration authorities."
The incident was raised at the public meeting last Monday when members of the public suggested a new protocol (which had been introduced to deal with such situations after a similar incident last year) had not been followed.
Last year an Argentine citizen attempted to take bullet shell casings on to a LAN flight. They were confiscated and the passenger allowed to board and no action was taken.
In the most recent incident the citizens involved were again allowed to board the aircraft after the items were confiscated and the incident reported to the police. However the Chief of Police has confirmed to Members of Legislative Assembly (MLAs) that action is being taken on this occasion.
The Attorney General Peter Judge who was significantly involved in the development of the response protocol said although he had no involvement in this specific incident he was advised, "that Security, Immigration and Police personnel were seen to work very effectively together and in the manner that had been agreed."
The protocol was reviewed and refreshed in 2015 with input from all relevant government departments and MLAs.
Government has also stated that a protocol for adding people to a persona non grata (PNG) list is under review.
Other incidents involving two members of the public being verbally harassed by visiting Argentine citizens shouting political slogans at them, and an Argentine flag being displayed near a British 1982 war memorial at Cape Pembroke on May 15, were also discussed at Monday's meeting.
It was asked why, despite the upsetting behavior being reported to the police no action had been taken. A number of people expressed their concern at the increase in this type of behavior from what they accepted was a minority of Argentine visitors.
MLA Mike Summers said following the police reports being passed to the Attorney General's Chambers it was for them to decide whether it was deemed appropriate to take things further.
The Attorney General Peter Judge (who is not obliged to explain his decisions) told Penguin News that in relation to the incident at Cape Pembroke, "I confirm the RFIP referred an investigation file to my office on May 18, 2016. The file included witness statements and details of the RFIP investigations conducted since the date of the incident. The same day as the file was referred (May 18, 2016), my office assessed the file and applied the appropriate 'Full Code Test' to the evidence. The evidence did not pass the first part of that test – the evidential test - in that it did not amount to evidence of a criminal offence for which there was, 'a realistic prospect of conviction', of any person. The RFIP were advised accordingly that day."
MLAs met with the Chief Executive, Attorney General and Chief of Police this week and MLA Summers said: "The Attorney General was able to give us an explanation of the decision making process in relation to the files passed to him by the Police following incidents on Cape Pembroke - though he was not obliged to do so," and, Members were satisfied by the explanation.
On the same subject MLA Michael Poole wrote in a letter to a constituent this week (and copied to PN) that they were: "very aware of recent incidents and as upset by them as everyone is. We too worry about escalation." He said there was, "a small potential range of existing criminal offences that may be committed by some individuals," which included incitement to racial hatred and harassment causing alarm and distress.
"The police have actively investigated all recent incidents and have compiled cases on each for referral to the Crown Prosecution Service (CPS)" said MLA Poole.
He added: "The CPS, which is necessarily entirely independent, has then taken a view as to whether prosecution is warranted. That is a matter outside of the remit of MLAs, but the AG has been kind enough to discuss with us. This Government has considered and rejected proposals in the past regarding strengthening legislation around flag-waving due to it infringing upon human rights. However, we have asked that a detailed protocol for the adding of people to the persona non grata list come to MLAs for review so that we can better avoid trouble-makers visiting again in the future. This is in progress."
There was a range of other solutions that were being actively investigated, he explained (for example permitting for visiting key sites), "but there is no simple answer to this problem; it is and will always be a balance between civil liberties, freedom of expression and being able to properly deal with those that are clearly and maliciously causing distress."
He assured: "The Government is not intimidated in any way and discuss this issue regularly and at length; we just struggle to find the right constitutional and legal solution." (Penguin News)