Lula regrets having elected Dilma as his successor, according to taped conversation
Monday, May 30th 2016 - 09:25 UTC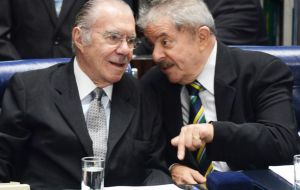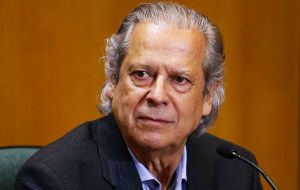 Ex Brazilian president Lula da Silva regrets having handpicked suspended president Dilma Rousseff as his political heiress, according to a taped conversation leaked to the media. In the audio between former president Jose Sarney and Sergio Machado, a former head of Transpetro, a state-run natural gas company, who is believed to have entered a plea bargain with the prosecution, the two men comment on Lula's confession.
In effect, Sarney who was also president of the Senate and a crucial ally to help the Workers Party coalition pass legislation recalls: "he told me that his only regret is having elected Dilma. The only mistake he made – and the worst of all".
Dilma Rousseff wasn't Lula's first choice. The two men he was considering as possible successors had both fallen, one after the other, to corruption accusations. José Dirceu, his first Chief of Staff, had been impeached from his position as a representative after the Prosecutor-General charged him for operating a bribing system in Congress to assure the government would receive the votes it needed to pass certain pieces of legislation.
Antonio Palocci, his first Minister of Finance, was accused of participating in clandestine meetings with lobbyists and prostitutes in a mansion in Brasília – and accessed confidential bank data of the mansion's keeper – while heading Brazil's economy.
The conversation was recorded in March, at Sarney's house. Machado was wearing a wire, and while he talked to the former president, investigators recorded everything.
In a statement, former President Lula declared that the audio leaks are "disgusting, and show that after two years of investigation, prosecutors haven't found a shred of evidence [against Lula]." Sarney and Dilma Rousseff, the other presidents concerned, have chosen not to comment on it.