Brazil's posts a primary budget surplus in April, because of annual income tax collection
Tuesday, May 31st 2016 - 07:21 UTC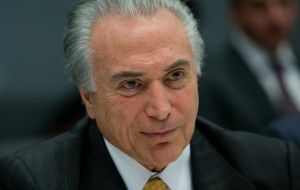 The Brazilian government posted a primary budget surplus in April well above market expectations due to a seasonal increase in tax revenues and a drop in subsidies, a senior official said on Monday. The government, which is struggling to lift the economy out of a deep recession, posted a primary budget surplus of 9.751 billion reais (US$2.72 billion) in April.
Treasury chief Otavio Ladeira said the steep surplus was due to an increase in the collection of the annual income tax due in April and a drop in expenditures with subsidies after the government adopted new payment guidelines.
Ladeira told journalists the April surplus does not change the government's outlook for a primary deficit of 170.5 billion reais this year, equal to about 2.75% of GDP.
In March, the central government, which includes federal ministries, the central bank and social security administration, recorded a deficit of 7.9 billion reais, a record shortfall for that month, due to a decline in tax revenues.
The primary balance of payments, or the difference between revenues and expenditures prior to interest debt payments, is a key gauge of a country's capacity to honor its debt.
Interim President Michel Temer, who has replaced President Dilma Rousseff as she faces an impeachment trial, announced a series of measures aimed at closing a budget deficit including debt payments that could top 11% of GDP for the second straight year.
His government will propose legislation to cap public spending and agreed with state development bank BNDES for the early repayment of 100 billion reais in debt.
The record deficit forecast reflects the dire state of government finances after years of heavy spending and steep tax breaks under the Rousseff administration that cost Brazil its coveted investment-grade credit rating last year.
But some economists say the sheer size of the deficit estimate could pave the way for more public spending ahead of mayoral elections in October.
Brazil's economy probably shrank for a fifth straight quarter in early 2016 as the impeachment process against Rousseff paralyzed investment and pushed the country closer to its worst economic downturn on record.