Keiko Fujimori seems set to become Peru's next president on June 5 runoff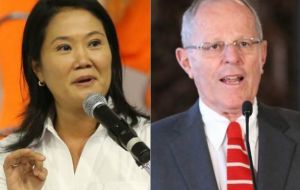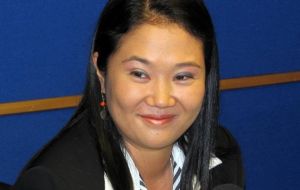 Presidential candidate Keiko Fujimori built a significant lead over Pedro Pablo Kuczynski just one week ahead of Peru's runoff election on June 5. The latest Ipsos poll shows 43% of Peru's voters support Fujimori, compared to 38% for Kuczynski. Fujimori's five-point lead reflects political momentum in her favor since the same poll a week ago gave her a three-point advantage.
In an election simulation in which respondents cast their vote in secret, Fujimori obtained 53.1% of valid votes compared to Kuczynski's 46.9%, which reflects a 0.5% gain for Fujimori since the same simulation in the previous poll.
The poll was taken before news reports of Fujimori's running mate Jose Chlimper was the source of an edited audio recording which looked to discredit a previous story about the DEA investigation into Popular Force chairman Joaquín Ramírez for money laundering
Given his position in the polls and Fujimori's aggressive posture in the first debate, Kuczynski immediately went on the attack in his opening statements last Sunday. He highlighted the allegations against Fujimori's party leaders as a threat to Peru's democracy.
But Fujimori had prepared responses for most of Kuczynski's attacks. She even won some exchanges with counterattacks, including one in which she deflected the criticism of her 50% absentee rate during her term in Congress into a vow to champion women's right to maternity leave.
Meanwhile Fujimori repeated her points that Kuczynski would advocate for big business at the expense of small and medium-sized companies. At one point she pointedly asked why Kuczynski had "given away" Peru's natural gas in licensing the exploitation of the Camisea gas fields.
As in the first debate, Fujimori's superior oratory skills and populist rhetoric were too much for the 77-year-old economist to overcome. Kuczysnki certainly landed some big punches, but Fujimori won the fight.
Many analysts saw the debate as Kuczynski's last stand to turn the tables on Fujimori's momentum. Now only external forces can stop Fujimori's election to the presidency.
"There is a statistically significant difference in favor of the Popular Force candidate," Ipsos pollster Alfred Torres writes in El Comercio. "Consequently, the most likely outcome of the election on June 5 is that Keiko Fujimori will be elected president of the republic."