Hillary Clinton captures Democrat presidential nomination, (with super-delegates), says AP survey
Tuesday, June 7th 2016 - 09:34 UTC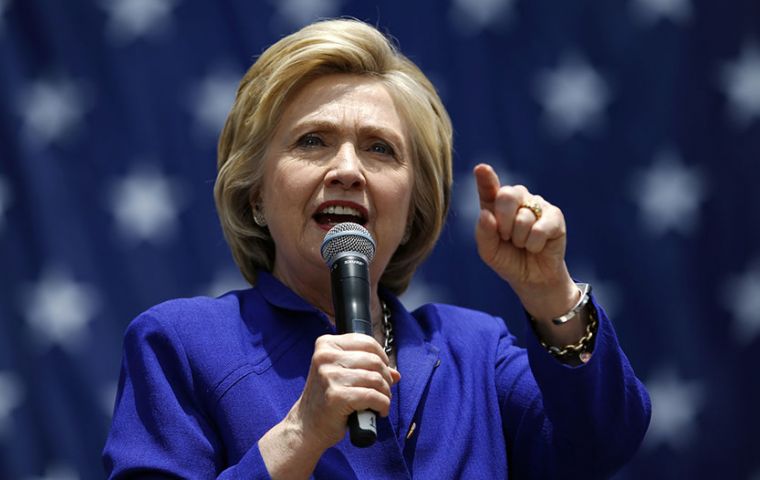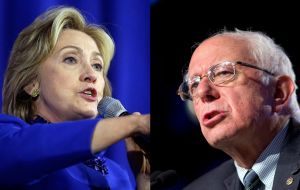 Hillary Clinton became the first woman to capture the presidential nomination of one of the United States major political parties on Monday night, according to an Associated Press survey of Democratic super-delegates, securing enough of them to overcome a bruising challenge from Senator Bernie Sanders and turn to a brutal five-month campaign against Donald J. Trump.
Almost eight years after she ended her campaign against Barack Obama before a crowd with many teary women and girls, Mrs. Clinton signaled the news to a jubilant crowd at a campaign stop in Long Beach, Calif.
"I got to tell you, according to the news, we are on the brink of a historic, historic, unprecedented moment, but we still have work to do, don't we?" she said. "We have six elections tomorrow, and we're going to fight hard for every single vote, especially right here in California."
Like Mr. Obama eight years ago, Mrs. Clinton clinched the Democratic nomination with the support of hundreds of super-delegates — the party insiders, Democratic officials, members of Congress, major donors and others who help select the nominee. Under Democratic rules, these super-delegates — approximately 720 in all — are allowed to back any candidate they wish and can change their allegiance any time before the convention in July.
Mrs. Clinton has had relationships with many of the super-delegates for years, and her campaign began seeking their support as soon as she entered the race last spring. Mr. Sanders, by contrast, has struggled to win their backing.
Both Mrs. Clinton and Mr. Sanders competed most aggressively for so-called pledged delegates — the roughly 4,000 delegates that are won through state primaries and caucuses.
The Associated Press declared Mrs. Clinton the presumptive nominee by reaching out to super-delegates who had not announced which candidate they were supporting, and confirming that enough were backing Mrs. Clinton to get her to the magic number of 2,383.
The timing of the A.P. alert that Mrs. Clinton had reached the threshold was unusual, coming on the eve of six primaries, including the big states of New Jersey and California on Tuesday.
Robby Mook, Mrs. Clinton's campaign manager, called the A.P.'s call "an important milestone" but indicated Mrs. Clinton did not intend to declare victory until Tuesday night, when she "will clinch not only a win in the popular vote, but also the majority of pledged delegates."
Advisers to Senator Bernie Sanders took a dim view of the math. Mr. Sanders has previously said he would lobby Clinton super-delegates to shift their support to him by arguing that he is the party's best chances to defeat Mr. Trump, and he particularly plans to target those super-delegates who represent states where Mr. Sanders won primaries and caucuses.
"It is unfortunate that the media, in a rush to judgment, are ignoring the Democratic National Committee's clear statement that it is wrong to count the votes of super-delegates before they actually vote at the convention this summer," said Michael Briggs, a Sanders spokesman, in a statement.
"Secretary Clinton does not have and will not have the requisite number of pledged delegates to secure the nomination," the statement continued. "She will be dependent on super-delegates who do not vote until July 25 and who can change their minds between now and then."
Asked on a visit on Monday morning to a community center in Compton, Calif., about being on the cusp of making history, Mrs. Clinton said, "I'm not letting myself focus on it yet," but, she added, "It's been an incredible journey."